A successful day
Mon, 31 Mar 2008 13:11:01 +0000
In Cuzco they have a day ticket that covers six different attractions, so that pretty much decided my itinerary for the day.
First up was the Santa Catalina convent. This is marvellous, a beautifully twisty stone building full of religious artwork. The chapter house was especially richly decorated, a bit of a surprise for what I thought was a fairly obscure corner of the catholic system at the time. Of the paintings, the most striking was "Divine Wine Press", involving Christ, nailed to his cross and all, pressing grapes in a big vat. From each of his wounds, "the blood goes spurting pshshshshsh in slow motion", into the wine, which is then drawn off by a couple of angels. Transubstantiation I can cope with. I hadn't thought of communion wine as a blend before.
Then I wandered down to the other end of town for the Pachacuteq monument. Which is a waste of time. It's a statue on a tower of Incan stones: I thought original Incan stones, but in fact it's imitation. You can climb to the top, which is pointless since it's at the lowest point of the city. However, on my way down there through the less touristy part of town, I noticed a place serving ceviches, which I'd had recommended to me. I resolved to come back later.
On the way back I noticed a museum that was on my ticket, the "Museo de Sitio del Qoricancha". That was pretty lame, but it was interesting the see the skulls of people who had had their heads bound as babies to deform them into a pointed shape. I hadn't seen that before, and is probably the most extreme form of body modification I've ever come across.
The regional history museum wasn't bad. Quite an extensive collection of arrowheads and other relics from the various cultures that have arisen in the area. And they have some fine antique furniture from the colonial period.
So then I trekked my way back down to try this ceviches, ignoring my still somewhat sensitive digestive system (treat 'em rough, I say, it's the only way they'll learn). Ceviches is raw fish marinated in lime juice, which "pickles" the fish. Served with sweet potato, toasted corn, and chili.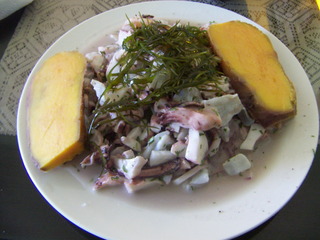 And how was it? Gross. Rubbery and with a mild, but not mild enough, chemical taste. I ate it all anyway, and I certainly feel like I've given Peruvian cuisine a go. On the way back I purged the taste with some ice cream, including pecado and chocolate cake, which was a rather alarming shade of orange with brown swirls. It looked too bizarre to pass up, but tasted really quite nice.
Then back to the touristy part of town for the Museo de Arte Popular. This is basically one room packed full of glass cases filled with various kinds of folk art from around the 1920s to the present. Mostly religious, often composed of random bits of recycled materials. I didn't really know what to make of it, whether it was a celebration of the art of the ordinary population or intended to be an exhibition of "serious" artworks. Fun, and bizarre.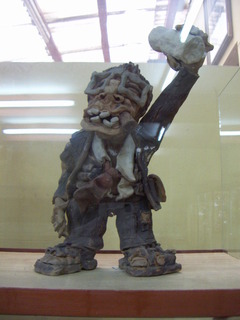 And then, since it was there, I went to the contemporary art museum. I don't know art, but I liked some of the more colourful paintings.
After a break to catch up with the news using the wifi at the hostel, the last stop in the evening was a show of traditional dancing, singing and music. It's interesting to compare this with the cringe-worthy efforts on Lake Titicaca. Why do I feel comfortable with this kind of show when it's done by people who don't belong to the culture concerned, but find it excruciating when it's done by the actual communities? Two things. Firstly, the professional dancers choose to do this, and lead normal modern lives. They're not forced into this by an accident of birth. And secondly, they're just better at it. It's distilled to the essential elements, which makes it easier to appreciate. An irrational reaction I guess.
As for the dances themselves, well, I enjoyed the music more than the dance. But it was entertaining, and even though I was prepared to leave at the intermission, I stayed to the end.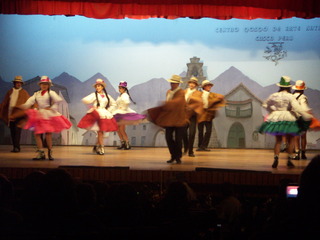 So that was a pretty good bit of touristing there. I feel very efficient.