Amman to Petra
Tue, 17 Jun 2008 13:06:56 +0000
I spent the whole of today insisting that I was going to "Wadi Musa", the town near Petra, and not to Petra. This is because I wanted to avoid getting sucked into a package tour. In the end, though, no-one goes to Wadi Musa except to visit Petra, so I just had to admit that I was a tourist.
I had breakfast, showered and packed, and checked out. While I was checking out I asked which bus station to go to to catch the bus to Petra. The woman at reception told me to go to a completely different station than the one Wikitravel recommended. I hate it when that happens. Wikitravel suggests the station run by the "Jett" bus company. The hotel was suggesting one that had buses every hour. I decided to ignore Wikitravel on this one.
Same as yesterday, I was shocked at how far out of the centre the taxi drove me. At least this time I know that the meter counts in thousandths of a dinar, not hundredths. The bus station turns out to be oriented towards mini-buses and tour buses, neither of which is what I really wanted. I just wanted to catch a regular bus. I walked around trying to find one, but everyone directed me to the same mini-bus, so I guess no shopping around is possible. The price of five dinars was pretty low: not much more than the taxi to get to the station in the first place.
The mini-bus waited until it was full before leaving. I'd asked the guy how long that would take, and he said half an hour, maybe twenty minutes. I took that to mean really an hour: in fact it was about 45 minutes. Most of the mini-bus was taken up by a large group of young Arab guys aged about 20 or so, who were slightly rowdy. There were a Japanese couple and an Australian woman and her mother too. When we were all assembled, we set off.
It was a pretty uncomfortable journey, wedged into the back corner. Loud Arabic pop music was playing the whole way, so I had to put on the only music I've managed to retrieve from the web: an hour of Jamie Zawinsky's mixtapes, in case you're interested. There was one stop along the highway to get petrol, where I used the worst toilet I've yet encountered on this trip.
After around three hours we got into Wadi Musa. I didn't have a reservation or anything, just a couple of recommendations from Wikitravel. I spotted the second place on my list as we drove in, so I just walked back there, rather than trying to find my preferred choice. I'm in the "Cliopetra Hotel", not sure if the misspelling is deliberate. It's not luxury, but it'll do. The manager is very involved and helpful, and speaks perfect English with what I can best describe as a backpacker accent. He served a "welcome drink" of tea with a mint leaf in. I've never tried that before, and it was delicious. He suggested I make an early start tomorrow to see Petra, with breakfast at six, and then he'd provide a free lift to the entrance. Sounds good.
The first thing I needed to do, though, was have a rest in my room. I napped for about an hour. Then I went to explore the town and assemble some supplies. Some biscuits, a couple of fruit bars, and two 2-litre bottles of water. Wikitravel tells me to take at least four litres of water with me. That seems a bit excessive, I'll take two.
I was pretty hungry, having only had a bread roll for lunch, but I had read that the al Wadi restaurant serves large portions, so I was saving myself for dinner. It's quite a nice restaurant, spread over three tiny floors. But it's all south-facing windows, so it was like an oven inside. I ordered some "Gallayh", even though he wouldn't tell me anything about it except that it contained lamb. It turned out to be mince, tomatoes and onions, and tasted suspiciously similar to the nachos we used to make in Sydney.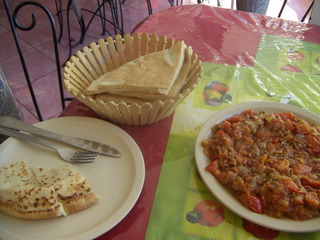 There was a fair stack of flatbread to mop it up with. I tried a variety of strategies for this, and settled on scooping food into a fold of bread with my fork. I guess I'm supposed to eat only with my right hand, but don't ask me how that's possible.
After dinner I spent some time on the Internet, and it turns out that my train ticket from Tanzania to Zambia has finally turned up. In Perth. I'm going to have to make a booking for a hotel somewhere and get my parents to overnight it to that address. It all sounds rather logistically challenging, and I'll wait until tomorrow to sort it out.