Cairo Day 3
Mon, 07 Jul 2008 15:45:23 +0000
Today was a pretty slack day, with only a little bit of touristing. This is partly because I'm still fuming from the failure yesterday.
When I eventually got up and had breakfast I got to chatting with the American girl in our dorm. She's spent quite some time in Cairo, so she was able to cheer me up with some stories about other people she's met here who have been ripped off much worse. She offered one piece of advice for dealing with hustlers: don't smile. At anyone. Ever. And that pretty much sums it up. If you want to stay safe in Cairo, be miserable the whole time. This is not my favourite city.
She also entertained me with the story of how she had a gun put to her neck in a mugging one time. But that was in the US, so it doesn't contribute to my paranoia. I do wish I'd extracted more details from the Brit about his mugging experience in Kenya though. All I got was that it was near Mt. Kilimanjaro, and he eventually got his credit cards and passport back. I have resolved to keep USD100 and two bank cards in my backpack from now on, and that I'll try to use hotel safes to keep my passport in if I can. But there's not much I can do to protect my camera and Nokia, since I need them with me.
Since today is the Muslim sabbath, I thought it would be a good idea to check out the Coptic quarter today. I went down to the Coptic museum. Conveniently, it's right outside the entrance of the metro station, so there was little opportunity to get lost. Nevertheless, I did go the wrong way at first, trying to find the ticket office. It turned out to be a tiny window in a corner of the wall and I'd walked straight past it. Not very good at signs, the Egyptians.
Wikitravel didn't seem too impressed by the museum, but I thought it was fantastic. It starts with the ruins of the Babylon towers, which are still some pretty impressive Roman fortifications.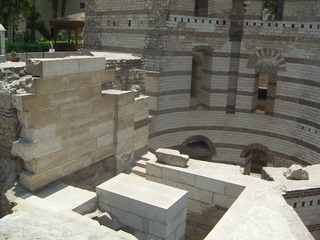 Then the main museum is packed with Christian artefacts. Most remarkable are all the textiles that have survived from the sixth and seventh centuries. I've very rarely seen textiles more than a millenium old in museums, but the copts seem to have plenty. Many of their codices are just as old. There's also an awful lot of carvings, door frames, stelae and so on. Particularly interesting was the frequent use of Pagan themes in the carvings, showing that the switch to Christianity was a long way from being instantaneous.
After that I popped into St. George's cathedral next door. A small but atmospheric place. Worth a visit.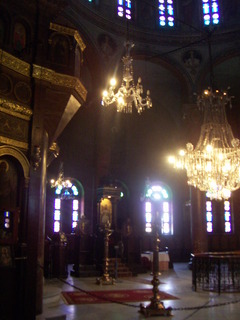 That was enough touristing for the day though, so I went back to the hostel to kill some time. I used the Internet for a bit, because I had a big pile of information I needed before I headed off to Luxor: such as the address of any decent hotel. I also had some last-minute concerns about visas for Kenya and Tanzania that I wanted to clear up. And lucky I did. It turns out that if I had my British passport as I assumed I would when I originally put together my itinerary, I could get a visa on arrival in Nairobi. But for some reason, Australia is one of a small list of countries that can't get a visa on arrival. Actually Wikitravel was kinda ambiguous on that, so I went to the EgyptAir shop just down the road to confirm. Yes, I need to apply for a visa in advance at the Kenyan embassy in Cairo. It takes "no more than three days" to process.
Bugger. That's actually a bit of a pain. I do have a surprising amount of time to kill before my flight to Nairobi, six days. I'd even considered changing my flight to an earlier one. But I've booked a train to Luxor and I was going to spend three days there. Instead I'll need to cut that back to two days, and that still only leaves me three days to get the visa. Luckily, none of those days is on a weekend. But if anything goes wrong, I'll have to scramble to see Zanzibar and still get to Dar es Salaam in time for my train to Zambia.
But you can't spend all your time worrying about what might go wrong, so I'll take my two days in Luxor and go straight to the Kenyan embassy after getting off the sleeper train. There are various plan B's, such as skipping Nairobi and flying to Dar es Salaam instead, or skipping Zanzibar, or something.
One thing I did have to do was get some passport photos for my application. This being Friday, it's not as easy as you might think. I knew that there was a photo booth at the train station. This being Egypt, the photo booth is half disassembled and there's an attendant who actually runs the thing for you. So when I got to the train station, the photo booth was boarded up for the weekend. That was the easy option ruled out.
I asked at the tourist office and the guy sent me out into the shopping district opposite the station. It's worth recording here that Mubarak station is ridiculously confusing. It's much like central station in Munich, a twisty maze of passages which took me several years to get the hang of. But at Mubarak, even when you get out to the surface your problems have only just started. There's a complex interchange/roundabout affair with fences around all the traffic islands, making yet another maze. I got badly lost, almost killed myself trying to vault a chain-link fence, and got extremely sweaty and frustrated. And couldn't find anything even remotely resembling a photo place, or even the "supermarkets" my informant had promised. I gave up and took the metro back to the hotel.
On a whim, I asked at one of the tourist offices there if they knew a place I could get a passport photo. In exchange for promises that I would come straight back and book a tour of Luxor with them after getting my photo (Cairo is turning me into something of an accomplished, reflexive liar), I was directed to a place that actually did me some pretty cheap photos. Good that they were cheap, since with a week's facial hair and just having come back from chasing all over the train station in the scorching heat, these are not the best photos of me. In fact, I realise that I now cannot shave until I've put in my application, otherwise the photos won't match. And if I want to keep the other two for the Tanzanian border crossing, I can't shave in Kenya either. It's amazing the knots you can get yourself into with this stuff.
I went back to the hostel to cool off and read some news. I was writing up yesterday's blog entry, and had rather a lot to say, so I didn't notice how time was slipping past until it was gone seven. I had to be at the train station by 7:50, and I wasn't entirely sure that I knew where Giza ENR station was, so this put me in a bit of a panic. I rushed off to the Metro. But really I had plenty of time and found my platform no trouble.
I got to chatting with some fellow-travellers at the coffee shop, one Korean, one Japanese, one Thai. Odd collection to be travelling together, but it probably makes sense to stick together. When I got on the train I turned out to be sharing with another Japanese guy who was on his way to Sudan to learn Arabic. Now that's what I call intrepid. He's studying foreign relations at university and wants to join Japan's diplomatic corps. Pretty cool stuff really. He already knew enough Arabic to chat with the steward who came round.
The train is first class, for the benefit of the tourists, and is pretty nice. It's not extremely nice, not a patch on the Andes Explorer in Peru. The door to the washbasin doesn't latch properly and I had to use my Handy Piece of String to hold it shut. But we get two meals, and in my case breakfast is served extra early so that I can get off at Luxor (my companion's carrying on to Aswan and will still be asleep when I leave). Importantly, the steward will actually make sure I get off at the right stop, which is the bit that usually terrifies me about foreign train journeys. So I'm very happy that I got this ticket. The English guy I was talking to in Cairo had recommended the second class, saying the seats are actually pretty good, but there's no subsitute for a proper bed.