Copping Out
Fri, 18 Apr 2008 02:21:27 +0000
Touristing in Rio Index Wasting a Day
I lay there thinking about that whole "three days without showering" plan for an hour or so, and ended up deciding that this was a silly plan. The alternative was to cut short Rio de Janeiro, travel to Sao Paulo on the Saturday, get a good night's sleep and a shower, and then fly to Toronto Sunday evening. Throw in those magnificent breakfasts at the Sao Paulo hostel, and there was no contest. Also this has the advantage of minimising my exposure to getting robbed and murdered and Dengue feverised. But I'm sacrificing a Saturday in Rio with everything open for a Sunday in Sao Paulo with everything closed, which I consider a bit of a cop-out.
After breakfast at the hostel, where this time I didn't have an opportunity to nick a second bread roll, I was forced to get a second breakfast at the shop round the corner. They really are very, very good. The coffee was hot, I ordered some reasonable (but not as good as in Sao Paulo) pao de quejo, and followed up with some kind of egg-based souffle-like cake. Marvellous.
And then a bus to the bus station to organise a ticket to Sao Paulo. My roommate was surprised that I was taking buses instead of flying, but this is the kind of situation that shows what a good system it is. I just turned up to the bus station and got a ticket for a bus departing an hour later. No pre-booking, no complex fare regulations. No having to turn up two hours before departure, no security, no complex check-in procedure. And much, much cheaper. Sure, it takes six hours, but when you throw in all the queues and waiting of air travel, the margin shrinks considerably.
The bus journey itself was extremely uneventful. Of course there were DVDs being played at unnecessary volume, but I plugged in my MP3s and ignored it. Apart from that I made good progress into the backlog of my newsfeeds.
Sao Paulo by now is feeling very familiar. I made my way to the hostel, checked in, and then went out for a meal. I thought I'd try a place around the corner I haven't been to before, which looked like it had a little more variety than the deep-fried-thing merchants I've been visiting until now. I went for the strategy of just ordering some random fairly expensive thing from the menu. It turned out to be this: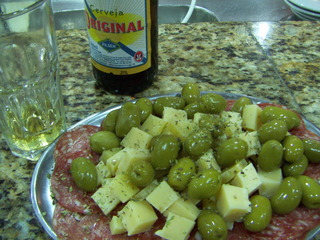 Uh, OK. It's a bit of a pity I hate olives, really. Of course, having ordered it, I had to eat it: that's part of the game. I didn't notice anyone sniggering at the dumb foreigner ploughing his way through a side dish for a party of 9, but I have to assume that this was happening somewhere out of sight. About halfway through I cracked and asked for some bread, "pao" being one of the few Portuguese words I know. The bread was terrific. The rest was an ordeal. But I ate every last morsel. I finished up with some cake from a different place round the corner. All in all, surely my worst meal of the trip so far. Worse than ceviches.
Tomorrow I intend to do nothing but book Canada stuff on the Internet, and get myself to the airport in plenty of time for my flight. Everything in Sao Paulo will be closed, so there's no point attempting any tourism. Pure slackness is the plan.