Dar es Salaam Day 2
Tue, 22 Jul 2008 12:01:08 +0000
Dar es Salaam Day 1 Index Zanzibar
Today was a pretty useless day, consisting mainly of marching around town fending off hawkers. Nevertheless, I quite enjoyed myself. Dar is starting to feel like a comfortable place, where I can walk around randomly safe in the knowledge that I know where I am and can find my way to where I need to be.
After breakfast, the first task of the day was to use the Internet, which didn't go very well. There's an Internet cafe at the hotel, but it's tiny, the machines are slow, and their service provider seemed to have DNS trouble today. I'll have to find something better.
On the way out I met a girl from a group of travellers I'd spoken to yesterday at the museum. They'd been on the TAZARA, and although I'd gotten some advice from them yesterday, I took the opportunity to extract a lot more detail, both about the train and about Botswana when I eventually get there. Useful stuff. It seems I will need to bring lots of food, even though there is a restaurant car. Another worry is how to get power for the Nokia, since this is my only way to pass the time over the two days (that's two days if things go well). Apparently you can pay the barman to use his powerpoint, but I resolved to try to buy a third battery just to be on the safe side. In return for the information, I warned her not to get a horse ride at the pyramids. She looked a little skeptical, as if she could scarcely believe anyone would be so stupid as to fall for a con like that. And hopefully, with that advice, she'll still think I'm an idiot when she's done with Cairo.
Then I went down to the nice shopping centre for second breakfast. Cheesecake seemed a bit excessive two days in a row, and the cafe doesn't do anything more sensible like a croissant, unless you go the whole hog and order pizza. So instead I got a couple of small samosas and a danish from a little stall. The samosas were delicious, and make me think I should perhaps explore the Indian cuisine here a bit more thoroughly.
Next up I headed to the ferry terminal to buy a ticket to Zanzibar for tomorrow. The place really is thick with hawkers, who you just have to ignore as best you can. Wikitravel did help me out here, allowing me to plan in advance which company I would go to. I marched straight up to the counter to get my ticket. I only got a one way ticket for now, because I wanted to see what the Zambians would do to me with my passport. The trick is that even though Zanzibar is part of Tanzania, you still need a passport to get in.
I still had an hour or so to kill, however, so I went for a walk along the seafront up towards the fish market. As I passed the church, where there's a little park, there were some men in suits who seemed to be rehearsing some kind of hymn. I realised after a bit that they were only miming. Still, it was some free entertainment for a few minutes.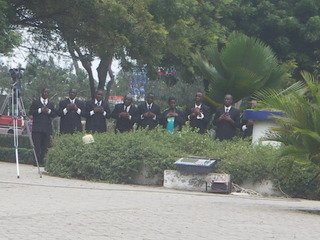 There are a lot of hawkers all along the Ocean Road, and I had to be quite rude to get rid of them. Maybe my hard shell isn't such a bad idea after all. When one of them happened to mention the word "Deutsch", I got my first ever chance to try the strategy of pretending that I didn't speak English. Quite fun. I hadn't realised until now just how hard it is not to repond to questions in English that you're not supposed to understand. This is a real skill I'm going to have to cultivate. Eventually I left the hawkers behind, but I was well short of the fish market when I decided that actually it was a bit far and I wanted lunch, so I turned back.
For lunch, I had in mind a collection of stalls down by the water that I'd passed yesterday, but dismissed in protection of my still-delicate stomach. But I've decided that I've now recovered sufficiently to try the street food. I got some kebabs of meat and chips, chips being absolutely ubiquitous with every meal here. The meat was gristly but it was eatable. I'm pretty sure the guy who served me overcharged me at 2500 shillings (that's almost two dollars!), but it would have been mean to haggle over that. Especially given that, as I still had a lot of time to kill, I dropped 5000 shillings on two coffees at the coffee shop.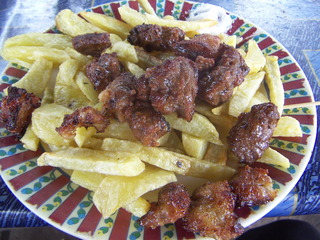 At the appointed hour I returned to the Zambian High Commission, where I had to wait for the lady to turn up at her desk. When she did, she had some bad news. Due to some unexpected diplomatic crisis, the guy who signs these applications was too busy to do so. No passport for me. I pleaded that I was heading to Zanzibar tomorrow, and she actually phoned the bloke, but he wasn't having it. So instead, she gave me my passport (and my money), and said that if I returned on Thursday in the morning I could get my visa then, that same day.
So the net result is that my visit to Zanzibar, originally planned for two full days, has now been whittled down to just a day trip. That's not a big problem - Wikitravel suggests a day trip as a reasonable option, if all you want to do is explore Stone Town. I had hoped to stay overnight there, but at least I'll get to see the place.
In fact I could probably have promised to turn up Thursday afternoon and caught an early ferry Thursday morning, but I don't want to push it. If necessary, I want to be able to camp out in the Zambian High Commission making a nuisance of myself for hours on end, until they give me my visa.
So that was a bit of a bugger. That left me with not a lot to do for the afternoon. I did go on a hunt for a spare battery for my Nokia, but that turns out to be impossible. They don't have the particular model of battery it uses. What I am going to do, however, is buy a book in dead tree format. There's a little bookshop just around the corner from the High Commission, with a selection of books clearly oriented towards tourists. In fact, all the price tags were in pounds sterling. It took me a while to get past the horribly depressing bestseller-and-management-book front end ("Hey, why not try a Dan Brown novel? They're really exciting, and don't have too many big words!"), and found some things that I could actually read. I'm looking for something that will keep me occupied for several full days, ideally something mildly tedious so that I don't burn through it too quickly. I seriously considered the Dosteyevsky, but thought that might be taking things too far. I came up with a shortlist, but I think I'll read the reviews on the web before committing myself.
Clearly the problem of when I'd return from Zanzibar had come into sharper focus, so I returned to the ferry terminal to book my return ticket. That's quite a lot of cash I spent today, 35 USD each way. But come hell or high water, I'm visiting this damn island now. While I was down there, I visited St. Joseph's cathedral, just to see what it was like and to put in some nominal touristing. It's not particularly inspiring, but it felt like a beautiful haven from the hawkers outside. In fact, one guy was persistently following me right up to the gates of the church, which finally repelled him. See, they really are unholy creatures of the night.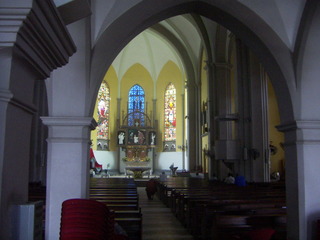 On the way back I happened to pass a street vendor selling little fried batter things, so I bought a few. At just 100 shillings each, they're great value. Rather sweet, very greasy, and filling. Probably even hygienic, given that they were fried right in front of me. I'll have to look out for them in future.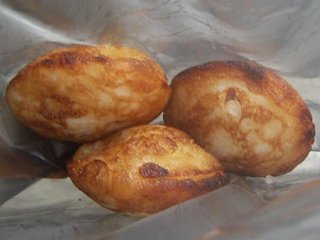 But it's an early night for me, and no chasing around Dar in the dark. I've got to get up reasonably early to catch my 7:30 ferry tomorrow.