Frankfurt to Warsaw
Wed, 27 Aug 2008 19:41:01 +0000
Frankfurt Day 2 Index Warsaw Day 1
6:30 might seem like a fairly late time to get up compared to what I've had to put up with so far, but it proved challenging in practice. Maybe it's the sudden reintroduction to beer. As a result, I managed to forget my towel while collecting my stuff. Ah well. Bound to happen sooner or later.
I grabbed some breakfast from one of the millions of bakeries that have colonised the train station, and found the correct place to stand from the chart on the platform. I was horrified to discover from an announcement that the train was delayed for an entire seven minutes, thus forcing me to wait for it. DB really is going to pot. But when the train eventually arrived, it was nice enough, as you expect with an ICE. No power point though, which is a little disappointing.
The journey went through some really rather pretty green German countryside, all rolling hills and quaint villages. But I spent most of the trip reading.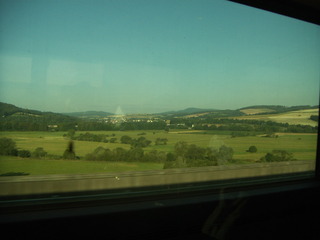 I changed to the Warsaw express in Berlin. This is the first time I've visited Berlin's new Hauptbahnhof, and it's impressive, although it's basically just a shopping mall with trains. I had an hour to wait for my train, plenty of time to get some food and a coffee. I got a pretzel, since this is something I missed while I was away. Berlin pretzels seem to be small, hard, and have far too much salt on. I guess I'll have to go to another Oktoberfest to get a proper pretzel again.
The Warsaw express is much less nice than the ICE, of course. Still, the seats are expansively wide, so there's plenty of room for me to fold my legs underneath myself. I just wish these trains wouldn't adopt the facing-each-other layout, which leaves you knocking knees with other passengers the whole time. The countryside didn't seem as pretty as in Germany, and I slept much of the way.
Warsaw's communist-era train station certainly doesn't match up to Berlin's brand new one, but it's a cheerful warren of cheap shops.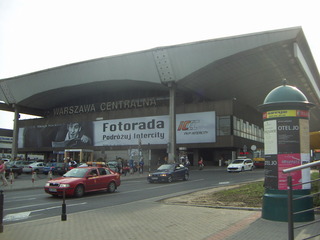 Then you emerge onto ground level into an extremely modern, flashy shopping centre full of extremely modern, flashy people. Once again, I'm feeling a little self-conscious about my even more bedraggled than usual appearance.
The hostel is on the other side of the Culture Palace, a big Soviet art-deco building which dominates central Warsaw. Apparently it was a gift from Stalin. Loved his nice gestures, did Stalin. I think it looks very cool, and the park around it makes a nice walk in the evening.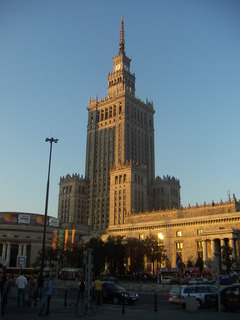 The hostel is a pretty nice one, with relatively few beds per dorm and a good lounge and bar. They'd only let me stay for two nights if I move dorm tomorrow though, so I'm not going to have a chance to settle in.
I set off to find some dinner, hoping to find something approximately Polish. I found a bistro, and I'm not sure if the pork cutlet I ordered is Polish or not. But it did come with potatoes and cabbage, so sounds pretty Polish to me.