Jerusalem Day 1
Fri, 20 Jun 2008 13:48:55 +0000
I had a really, really good night's sleep last night, good enough that I didn't want to get up. Breakfast was at 8:00, so there was no rush. And a very nice breakfast it was too. A huge buffet of salad, bread, scrambled eggs, a sort of quiche thing, cereal, a coffee machine, even chocolate cake.
Then to the bus station. It's a little ratty, but efficient. Unfortunately I had a seat on the sunny side of the bus, which implied pulling the blind down so I didn't have a view of the very spectacular mountains we drove through. I'll be coming back this way on my way to Egypt, so maybe I can make up for it then. The bus is air-conditioned, but the seats don't recline and there's no toilet. I guess that's why we stopped for lunch halfway through the journey. We only had 20 minutes, but I bolted down a croissant and an unexpectedly large slice of lemon cake.
This bus route takes us past the Dead Sea, which was a little hazy but nice to have in my photo collection. I'm weighing up taking a day trip to the Dead Sea while I'm in Jerusalem. As the sun passed overhead I was able to put the blind up and get a nice view.
We crested a hill and there was the Dome of the Rock shining out at us. Nice to know I'm in the right place. Wikitravel gave me the crucial instruction to turn left out of the bus station, and after a surprisingly long walk I found the Jerusalem Hostel. It's pretty nice for the price. I'm in an 8-bed dorm, so perhaps a little intimate. But it's a well-appointed place, and there's both free wifi and free internet terminals. I guess we'll see what kind of breakfast they serve.
The most important thing to do while I'm in Jerusalem is collect my train ticket for Tanzania to Zambia, which Dad is sending to me. He had some disappointing news: DHL is estimating a minimum of a week to deliver the thing. That seems a pretty poor effort. But apparently the guy who picked it up estimated two or three days, which seems more like it. Be nice if they could settle on a story. At least I can track it online. I need to stay in Israel until it arrives, so I may have quite a long time in Jerusalem.
It seemed appropriate to head out to the old town and see what I could see, so off I went. I wasn't really planning to see anything, just get a feel for the place.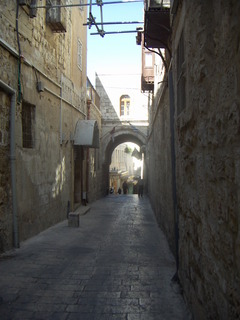 It's a short walk up Jaffa Street to the Jaffa gate, and I dived in. I pretty much immediately got completely confused. Wikitravel has a map, but it suffers from one of my pet hates: no compass rose, so I didn't know which way to walk from any given landmark. I passed endless shops selling a vast range of stupid t-shirts. I need to buy some t-shirts, but I'm not buying one emblazoned with a "Guns 'n' Moses" logo, or anything else for that matter.
I ended up in a queue of people waiting to get into the Western Wall Plaza. Well, I guess it's something to see. I've seen the wailing wall a thousand times on TV, but you don't get to see what it's like until you're actually there: there's a terrace in front of the wall full of tourists gawking at the worshippers at the wall. A bit sad really. Also, there seemed to be some kind of military presentation being set up. The mixture of religion and lots and lots of M16s isn't a particularly pleasant one.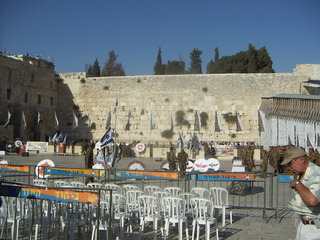 I wandered around a bit more. Eventually I got into the Arab quarter, where the real shops started up. I found a guy selling simple plain t-shirts at a table, and decided to see what price I could get. It's good to have a plan before starting to haggle. I decided he'd ask for 50, I'd say 15, then we'd settle on perhaps 25. In fact he said 20, which threw me a bit. So I said 10, and he said OK. I was shocked. I felt like protesting like the merchant in "Life of Brian": "Oh come on, you can get more out of me than ten! Go on, haggle!" That's about EUR 2. I want to go back to those women in the market in Ho Chi Minh City and say "There you go: Jerusalem. That's where I buy." I also bought five pairs of socks for 12 shekels. I now have an embarrassment of riches when it comes to socks, possessing no fewer than nine pairs. I may have to throw some away.
I also stopped by a restaurant that seemed interesting, to get some shwarma for dinner. And a fantastic place it is, in some kind of vault.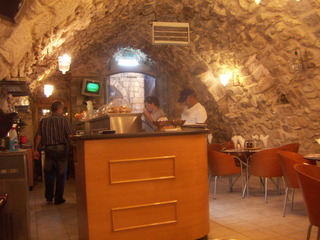 It looks really up-market, but the price was reasonable. In the end I was handed a pita in a wrap that wouldn't have looked out of place in Soho at 2:00 in the morning. Tasty though.
On the way back to the hostel I stopped by a bakery for a coffee, specifically planning to resist the pastries. But then the lady said that they had a special, 3 shekels extra for a cinnamon bun with my coffee, and I gave in. The bun was huge and gooey and I felt deeply ashamed of myself for giving in.
Back at the hostel I tried to find a wifi connection up on the roof. It's a nice place to sit in the evening. There's a cool breeze and you can watch the people down in Zion square. There were a couple of kids playing on the roof, who seem to belong to the manager of the hostel. They told me in no uncertain terms not to try to go into the garden that's up there, because it's theirs. No problem. I let them have a play with the Nokia, since they took an interest in it, but it doesn't have any games on, so it's not very kid-friendly. I also got to chatting with a 79 year old bloke who's in my dorm, and who turns out to be from Darwin. He was also interested in the Nokia. I'll have to avoid making such a spectacle of myself in future.