Jo'burg to Gabarone
Mon, 18 Aug 2008 09:21:12 +0000
Mbabane to Jo'burg Index Gaborone
A real proper lie-in this morning, until 7:30. What bliss! I emerged yawning to get some breakfast: muesli, yoghurt and fruit salad from the bakery up the road. Maybe I've left the "real Africa" behind, but I did miss that kind of thing in Mozambique.
I made a phone call to Gaborone to book a room, for once. Arrival time was scheduled for 8:00 at night, so a booking was pretty much essential. The first place I called was booked out, which was a bit worrying, but made me glad that I wasn't finding that out in the middle of the night. I asked for a room in a second place, but I ran out of money halfway through, which left me just hoping that the booking had registered.
I went to the mall to use the Internet for a bit. I'm weighing up what to do when I get back to Europe. I reckon I have about a week free, so I downloaded a bunch of Wikitravel pages to see what takes my fancy. I'm thinking maybe something around the Baltic, but I really have no idea.
The hostel's taxi picked me up at 11:30 and we drove to the station. I've finally figured out that "the station" = "Park Station" = "Johannesburg train station" = "the bus station". All your transportation needs in one place. I guess that helps avoid the need to venture out into the mean streets.
I got myself a window seat on the bus and settled in for the trip. We set off at precisely the scheduled time of 1:00, but then on the freeway out of Johannesburg we unexpectedly turned around, and it was announced that we had to go back to pick up a member of staff who'd missed the bus. That cost us half an hour. I bet they wouldn't do the same for me.
My neighbour is a South African guy who's off to Botswana just to broaden his horizons. Me too. We made a little conversation while we rolled through the South African farmland, although he seemed as ignorant of Botswana as I was. Mostly I spent the journey catching up on my news backlog.
The air-conditioning on this bus does actually work, for once, which helps since I once again managed to get a seat on the hot side of the bus. It's starting to drive me crazy when that happens, it makes these journeys so much harder. I started imagining what it would take to link up a planned route and departure time with astronomical data, and compute which side would be sunnier on any given journey. Coming soon to a Web 2.0 mash-up-tastic Javascript-ridden pile of Internet rubbish near you, no doubt.
The South African countryside gradually gave way to some more Botswana-looking veld. There were also quite a few tin-shack settlements. Is it better to have a tin roof over your head or a grass one?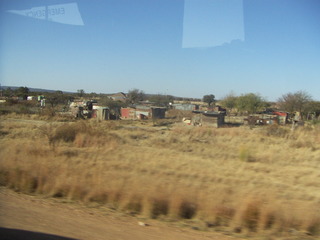 I was relieved that Botswana immigration was just a simple stamp, since I wasn't 100% sure that I didn't need a visa. And a few minutes after getting back on the bus we could see the bright lights of Gaborone. Surprisingly, Gabarone really is a city of bright lights, making it look far bigger than it really is.
I was fairly sure I'd made a booking, but the place I'd booked sounded a bit out of the way. Meanwhile a German guy had agreed with a local to be shown the way to some guest houses, and he'd invited me to come along. So I thought I'd have a look at what was available.
The three of us set out into the dark streets. The first place we tried turned out to be 930 pulo a night, about EUR 93. Um, no. A second guesthouse was booked out. The third I already knew was booked out from phoning them this morning. Things were starting to look pretty bad. The fourth option was South Ring lodge, the one I'd tried to book, and it was indeed quite a walk away. The local guy kindly offered to give us both a lift in his car. I'm certainly impressed by the hospitality here.
My booking turned out to be fine, but they had no other rooms free. I offered to let the German have the couch in my room, but it'd be a pretty uncomfortable night. Instead he borrowed a bike to try one last guesthouse. He was gone quite a while, but eventually returned with the good news that he'd found somewhere to stay. A great relief for both of us, I think.
The big outstanding question is what I'm going to do next. I was weighing up taking a bus to Maun, but I would need to find out where to catch the bus from, how much it costs, and so on, and reception here seems rather unhelpful. I just don't think I can be bothered. The other option is to stay in Gaborone for a day, go back to Johannesburg, and then make a similar short trip to Lesotho. I'm in two minds, so I'm going to sleep on it.