La Paz
Mon, 24 Mar 2008 00:34:44 +0000
It's pretty hard to believe this is the same country. As we climbed into the mountains, the temperature plummeted pretty quickly. Of course, this was the first day I'd switched to shorts and a t-shirt, and I was freezing. Until I decided that it was bed-time, and climbed into my sleeping bag. Then it was nice and cosy.
When I woke up the next morning, we were driving straight towards some impressive snow-capped peaks (which means they were hard to photograph, I'm afraid). Eventually we caught sight of La Paz - weirdly, directly below where we were driving along a precipitous cliff. The way it was shrouded in mountain mist only heightened the effect.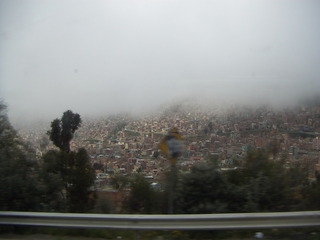 La Paz is a truly spectacular city, spreading up the walls of its canyon. And a real pain to walk around, when combined with the lack of oxygen. But I'm up for a challenge, and I think I've acclimatised now.
Of course, being Easter Sunday, none of the museums were open. But there were somewhat militaristic marches throughout the day.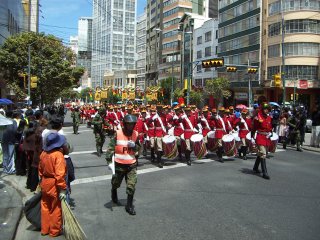 These guys were a bit of a worry though: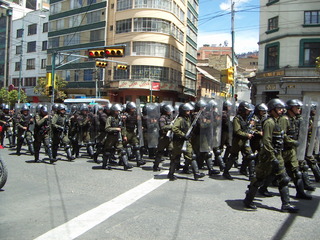 In Santa Cruz there were huge banners exhorting people to vote "Si" for "autonomia", which I guess is part of this ongoing saga between Evo Morales and certain provinces that declared independence. I thought that was being led from Sucre, but I can totally imagine that Santa Cruz would be in that camp too. Santa Cruz may be rich for Bolivia, but the people in traditional dress are noticeably less well off. When you get to La Paz, the slogans have changed to "viva la nueva constitucion", there's more traditional dress, and they look less downtrodden. So I can see where the tension comes from. It gets me a little nervous to see riot police marching through the streets though. Here's hoping compromise rules the day.
Anyway, I poked my nose into an Easter Sunday service at the cathedral. Both the cathedral and the service had a much gloomier feel than in Santa Cruz, but it looked nice from the outside. Notice the buildings clinging to the hillside in the background on the right: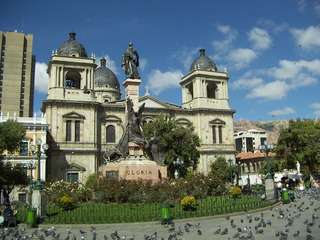 I wandered around various markets, sampling the street food as always. I got a pineapple smoothie from one stall, expecting to get just juice. And when I handed my empty glass back, she topped it up instead! Accepting dairy products from a street stall is the best way I can think of to get badly sick, but hey, it's gotta happen sometime. In the meantime, I guess I'd better stuff myself with other street food while I still can.
Apart from the food, I bought a new wallet for 7 bolivianos after my current one finally gave up the ghost. And I visited the "witches' market", which was very touristy and makes me glad there's no room in my pack for souvenirs, otherwise I'd be burdened with all kinds of rubbish for the rest of my life. The market did feature the perserved llama foetuses used for spells, as promised by wikitravel, but you get the feeling that locals buy their llama foetuses elsewhere.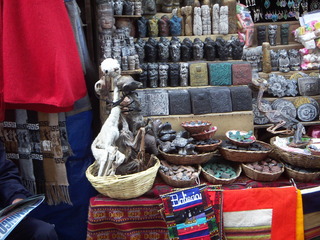 I then made use of the free wifi in the hostel to do some computery stuff, finally getting a chance to download my inbox. I also tried to book a boattrip on Lake Titicaca for when I get to Puno, but the company has an absurdly convoluted booking system, requiring emails and credit cards and other stuff I'm going to struggle to bring into order in 24 hours, especially if I'm taking a bus trip the whole day. As always when using computers, it left me frustrated and unhappy. So I cheered myself up with some grilled chorizo sausages from a place that looked suitably local and genuine: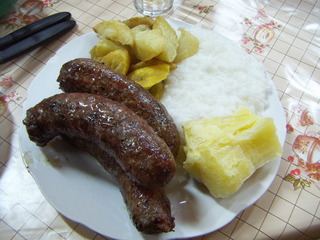 ...and then waddled home as best I could.