Leaving Cuzco
Fri, 04 Apr 2008 16:30:52 +0000
Today my bus left at 2:30, so there wasn't really much to do except prepare myself for that.
I had another excellent night's sleep, again to my astonishment. There's no comparison to the bedlam of the Loki hostel in La Paz. Maybe it's the fact that all my roommates were girls. I woke up after seven hours at six, and decided I might as well get up. I ordered the granola, fruit salad and yoghurt breakfast they do at the bar in the mornings, and it was excellent. So I was in a good mood.
I spent much of the morning fooling around with computery stuff. My hard disk doesn't seem to register any more, which is annoying. I hope it isn't broken, that would leave me with nothing more than the rather limited selection of music and video I've got now for the next five months. And I had more trouble with my news feeds, although I think I'm gradually converging on something robust there.
Then a trip down the Avenue el Sol to post some postcards, back to pack, and a taxi to the bus station. At the bus station I got a quarter chicken and chips from a beautifully downmarket spot.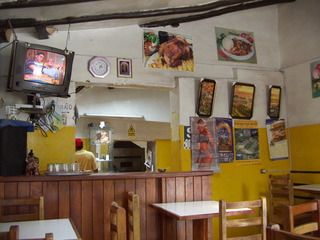 Service was fast, the chips were fresh if not crispy, and I really enjoyed it.
The bus turns out to be quite luxurious, at least compared to the Cuzco-Puno buses. I guess with a 17 hour journey, it has to be. There's plenty of leg-room, especially right at the front where I am. So there's a reasonable chance of getting some sleep. We were even offered some sweets when we got on board, but then it turned out that we had to pay a sole for the privilege.
Unfortunately, the TV is on. They played the whole of Sparticus, and now we've moved on to Blood Diamonds. The latter is in English with Spanish subtitles, so I'm watching it. Gee, a road trip through Africa sounds like fun. There's something to look forward to.