Leaving Vientiane
Fri, 23 May 2008 08:42:35 +0000
Vientiane Index Back in Bangkok
I had one major overriding concern for the whole of today: trying not to sweat. Tonight is yet another night train, and the less I sweat during the day the more comfortable that journey will be. I don't think I was very successful.
I went down to breakfast very early, 6:30, in hopes of catching some food when it's fresh. Nope, that didn't work. The bread for toasting was even more stale than yesterday. Presumably it was the bread from yesterday. I mixed things up by having some bacon and eggs. The eggs were extremely greasy and rubbery, while the bacon was cold and fatty. Not a very successful meal really.
I basically lazed around most of the morning. I did have one piece of touristing to do though: visiting Wat Si Saket, which is the oldest temple in Vientiane. Apparently the reason is that it's built in Thai style, so the Siamese didn't burn it down when they last invaded. That means I wasn't really seeing a particularly Lao monument, but what the hell, it's just around the corner from the hotel. One interesting part of it is a storeroom for hundreds of partially-wrecked buddhas, salvaged after the Siamese invasion. The Laos really do seem to have taken a beating over the last couple of centuries.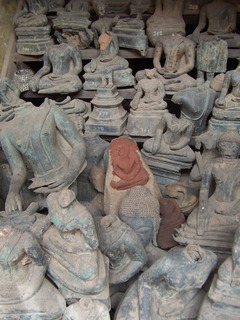 Nearby the temple is a rather large walled compound which turned out to be the presidential palace. Given that, it actually seems relatively modest - tiny compared to, say, the West Australian parliament. Although it's locked up there doesn't seem to be a lot of security around. You can draw whatever conclusions from that you like about political life in Laos.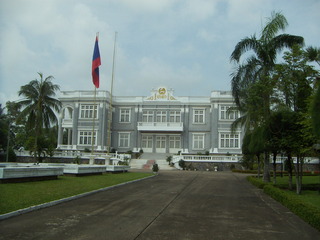 After having the day's second and last shower, and checking out of the hotel, I very slowly walked around to find somewhere to have lunch. I went to a slightly more upmarket restaurant than I'm used to, and ordered tamarind fish and sticky rice. It was pretty good, although the sauce was a little heavily sweet. I love sticky rice, I love the chewiness of it. I'll have to see how difficult it is to make it at home.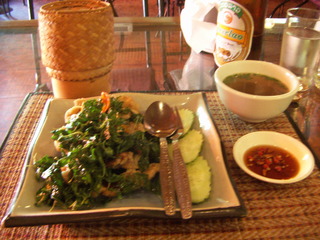 I really just alternated between drinking coffee and beer for the next couple of hours while I counted down the clock for my taxi to the border. My train was due to leave at 6:20, so I thought 4:00 was a prudent time to take a taxi. It was quite a nice relaxing journey this time. I'd paid at the hotel, so no haggling or fiddling with the still-confusing Lao currency. The window was open blowing away the sweat, and some Lao pop music was playing on the radio. I was almost sorry to reach the border.
Lao border formalities were pretty straightforward. Again I had a brief panic when I thoguht I'd thrown away my departure card, but it was still there in my bag exactly where it should have been. One thing I hadn't planned on was the leaving fee. It was 4000 kip, just for walking across the border. Luckily, I had deliberately kept about 15,000 kip back for miscellaneous border expenses, so that worked out.
From there, there's a shuttle bus that takes you over the bridge to the Thai immigration post. You know, I was sure that the friendship bridge was built with Australian money, and was a copy of the Anzac bridge in Sydney. But the bridge we crossed certainly wasn't, and there were Japan/Thai/Lao joint venture plaques around the place. So I don't know what's going on there. I was looking forward to photographing the bridge, but in fact it's pretty unremarkable.
The bus appeared to just dump us to do our best at Thai immigration and take no further interest. Thai immigration was no problem, but I had no idea how to get to the train station, and neither did any of the other tourists I spoke to. Of course I could take a tuk-tuk, but I'm really sick of those things and would rather do something like a bus with a single fixed price. In the end, after figuring out where I was with the GPS, I decided that it was only a couple of kilometres and I could just walk. That worked OK, but I was soaked in sweat by the time I got to the train station.
But it's reasonably nice on the train, air-conditioned so the sweat burns off fairly quickly. I had planned to order dinner on this train, but no-one came by to take an order. So it looks like I'm going hungry. Possibly no bad thing to go a bit easy on the food for once.