Machu Picchu
Tue, 01 Apr 2008 12:45:09 +0000
A Long Day Index Leaving Cuzco
The overwhelming emotion I felt upon walking into Machu Picchu was "Holy crap, I actually made it!" The reason I was so surprised by this is a bad attack of what I'll call "traveller's panic" in the morning. When you're travelling far from home, you tend to feel rather fragile. Occasionally you have one of those nasty moments when you realise that you've missed your connection, or all the hotels are booked up, or that you need to have booked your ticket in advance before turning up to the gigantic tourist attraction you slogged your way across a continent to see. And in those moments, you suddenly get an overwhelming sense of exactly how far away you are from the familiar.
Luckily, at least half the time, it turns out to be a false alarm, and that was the case today. I was almost sure that I'd screwed up: everyone I talked to had done Machu Picchu through an agent, and had train ticket, accomodation and gate entry included. It was only me who planned to just turn up and buy a ticket. And as it happens that's what you do. You do have to buy the entrance ticket before the bus that takes you up the mountain, but there was no problem doing that. There is also a limit on the number of people who can visit in any day, but I didn't see any evidence that this ceiling was being hit today.
So I had prepared myself well. I got my 11 hours sleep last night, with surprisingly little interruption. There was a bit of noise when a large group of people moved into the dorm, but they went out straight away (presumably to get drunk, the major occupation in this hostel). I didn't even wake up when they came back.
At 5:00 I got up and made my way down to the train station, where I had my little panic attack. I ended up deciding to go to the little village where the train terminates, Aguas Calientes, hang out, go back, and resolve to come back after visiting Chile.
The train journey was pretty spectacular, significantly more so than the Andean Explorer. On the other hand, it was very uncomfortable. It uses the "four seats facing each other" layout, which means there's not enough room for everyone's feet and knees. I was surrounded by a party of middle-aged Japanese tourists, and the bloke opposite and I managed to compromise as best we could. I also tended to fall asleep. But the scenery didn't let up, so I drank my fill of that.
In thed end there was no confusion about which stop to use: it only stopped at Aguas Calientes. Aguas Calientes turns out to be extremely touristy. You get straight off the train into a huge tat market full of the usual rubbish. It's actually quite hard to find your way out. I couldn't see anything that looked vaguely ticket officey, so I asked in a rather nice-looking hotel. To my astonishment, the guy gave me a map of the town and carefully drew the location of the ticket office, the place to get a bus ticket, and the place to get a bus. I was going to see Machu Picchu today after all!
So I bought my ticket, then got hit for another 34 soles for the bus (I've only just now figured out why so expensive, since it was supposed to be US$6: that must be each way), and headed up the mountain. The bus journey is pretty cool in itself, switching back and forth up the hillside and providing excellent views of the mountains. But then, there are better views at Machu Picchu itself.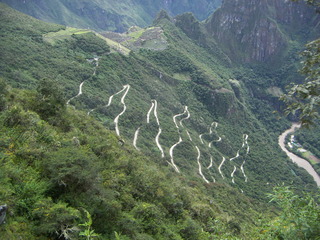 About the first thing you hit as you go on the tour is the spot where tourists take That One Photo of Machu Picchu.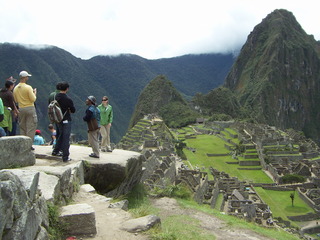 And of course, what the hell, I took one too. I even put the camera on timer and took a photo of myself. It doesn't have much of Machu Picchu in the background, but that's just because I'm so alternative.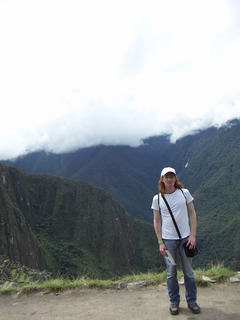 The complex is really pretty small, and even though I had three hours to spend, that's way more than enough. There are a few optional treks, so I raced my way to the sun gate and back. I did that in 45 minutes: on the way back I met a couple of women who said they took 4 hours. Also on the way back there was a llama, who consented to stand right in front of Machu Picchu for me to photograph. There's a shot most tourists don't get.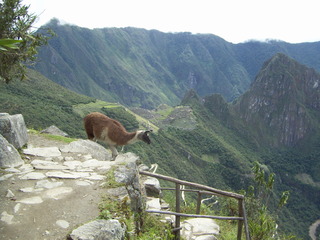 So then I started wandering around the ruins themselves, religiously following the marked path. You don't need to see photos of the various temples and significant rocks around the place: go read the Wikipedia article. It was like that.
And then proceedings were cut a bit short as I suffered a relapse of the stomach trouble of last week. Maybe all that eating last night wasn't such a brilliant idea after all. There's no toilet inside the site itself, so there was no option but to abandon Machu Picchu after just tgwo hours. Nevertheless, I saw pretty much all the sights, and I'm so thrilled to have actually pulled it off, finally, that I feel a perversed sense of satisfaction.
So then I was faced with the four hour train journey back, only at the end of which would I have access to my precious Imodium. And it was a really bad attack this time. Fortunately, the toilet on the train was pretty civilised - toilet paper and hand soap, amazing. So I made it back around nine without suffering any mishaps.
Tomorrow, though, I have a 17 hour bus journey to get through. So we'll see just how good this Imodium stuff really is.