Maputo to Mbabane
Thu, 14 Aug 2008 15:58:27 +0000
A Breather in Maputo Index Mbabane to Jo'burg
Oh man, was that ever a good night's sleep. I could tell by the way I woke up at 7:30 not feeling any need whatsoever to sleep any more. A good sign that.
Not having any particular need to hang around, I got straight into a taxi to a place that sounds like "Basha", where you catch the minibus to Swaziland. It turns out to be down by the docks. The taxi driver stopped right by the correct bus - easy to spot by the Swazi numberplates. The bus goes to Manzini, not Mbabane, but they're very close to each other. I was impressed that the minibus goes the whole way into Swaziland, I thought I was up for another two-leg journey, like crossing from Mozambique into Malawi.
There was however an hour-long wait for the bus to fill up with enough passengers to set off. Knowing by now how long these things can take, I left the bus to get some breakfast. There wasn't a lot of options for street food nearby. There was barbequed chicken, but that seemed a bit messy and protein-rich for that time of morning. Instead I bought a long loaf of crusty bread from a vendor and munched my way through it. It was actually a pretty good baguette, enjoyable even on its own.
We set off about 9:00. The other passengers were all men, and they quickly launched into loud conversation in a language I didn't understand. But they were discussing regional politics, especially Zimbabwe. Again, it's refreshing to be in a place where people care about current events. They seem able to discuss them in a good humour too, which is pretty remarkable given the seriousness of the subject. The equivalent conversation in Europe would probably come to blows, or at least sulking.
It took a couple of hours to reach the border. The Swazi border post is noticeably more up-market than the Mozambique one, and looks more like a suburban brick-and-tile house than anything. I guess tourism has long been a Swazi economic staple, compared to Mozambique that's just getting started.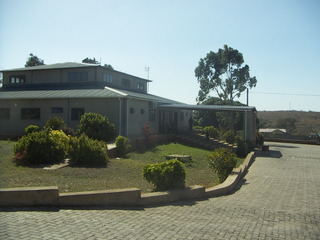 It's nice to enter a country which doesn't feel the need to waste space in my passport with more than a single small stamp. Mozambique took up about two pages altogether. When that was done there was a wait for the bus to be inspected by customs, and we could buy some food from a little kiosk and eat it in the sunshine. A nice relaxed way to enter Swaziland.
From the border we wound our way through the hills. It's very picturesque country, not quite mountainous, but the sparse scrubland gives you beautiful views over the landscape. I guess the hills are the reason the Swazis maintained their independence. Just a pity that, yet again, I was on the wrong side of the bus to photograph them.
We pulled into Manzini bus station, which is an absolute chaos of minibuses. It's 25km to Mbabane, just far enough to make a taxi a bit of a waste of money. Instead I asked my way to the Mbabane minibuses, and found one easily enough. But then I had to wait for it to fill up, and it took ages. While we were waiting the driver kept performing a weird dance, letting go of the brakes to let us inch forward a tiny bit, only to stop again. I kept thinking we were on our way, only to be disappointed. When he had inched too far forward, he'd reverse back again. The bus in front of us was doing something similar too. I suspect that this is designed to force dithering passengers to commit themselves, but it didn't seem very successful.
Meanwhile I noticed various buses apparently going to Mbabane pass us by, some empty, some full. Very frustrating. Normally I try to pick the fullest minibus to join, but it seems that Mbabane buses are distributed around the whole area, not concentrated together for easier comparison. As the wait dragged on, I considered just walking away and finding something else, but decided that all the other passengers couldn't be wrong. At one point a lady did leave, but then two more people got on. After a bit more waiting a second lady defected, and the remaining passengers started to look distinctly rebellious. Thankfully two more people joined immediately afterwards, and the driver finally decided that enough was enough, and we headed off for real this time. After an hour of waiting the actual journey only took half an hour, and we pulled into Mbabane bus station.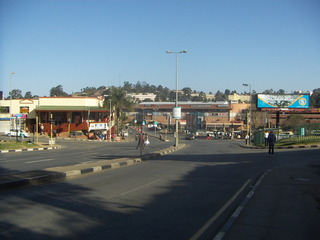 I didn't have a place to stay, just one vague address. My plan was to take a taxi there, but the more I looked at the address, the more it sounded not very central. Instead I decided to wander around and see if I could find a simple hotel close to the bus station. This I found, up the hill. About EUR 20 for a fairly nice room, breakfast included. Plenty good enough.
It was past 2:00 by this time and I was pretty hungry, so I set off to explore the town. There isn't an awful lot of town, and I quickly ended up at one of the two shopping malls they have here. This being Sunday most of the shops were shut, but I got a surprisingly good mutton curry from a takeaway place. I also embarked on a fool's errand to try and find some postcards. I asked at a couple of places, and was directed to the Spar, which had greeting cards but no postcards. A nearby bookshop, unfortunately closed, did have postcards in the window, so I resolved to try tomorrow. That was about as interesting as it got though, so I retreated to the hotel.
I didn't emerge until it was dark, to find some dinner. I wandered around more of the town, and bizarrely wasn't able to find any restaurants at all. There was one pub and restaurant, but it looked a bit dodgy and the menu was just chicken and chips, so I carried on. The only other option was the Steers fast food joint down by the mall. I got a pizza.
According to the bloke at reception, minibuses to Johannesburg leave sometime between nine and ten in the morning. So it looks like finally the days of early morning buses are behind me. Thank Christ for that.