Milwaukee
Wed, 23 Apr 2008 01:21:20 +0000
Toronto, again Index Sunday in Milwaukee
I checked into my flight at 5:00 in the morning, while lying in bed. That, finally, makes me feel like I'm living the wi-fi lifestyle. It's just a pity Air Canada's website is such a badly designed mess, really. Getting to the airport was trouble-free and I was in plenty of time, which is a nice way to start the day. And in Milwaukee, there were Andrew and Jenice to meet me, hooray! For all that I'm supposed to be an "independent traveller", being met at the airport never fails to bring a smile to my face.
For the morning, Andrew and Jenice's dog, Dingo, had an obedience lesson, which was fascinating to watch. Being a blue heeler cross, Dingo is pretty intelligent and picks stuff up much quicker than I would have thought was possible. I love speculating about the neuropsychology of what I'm looking at. I guess it's slightly less offensive when I do that with people's dogs than when I do it with their babies.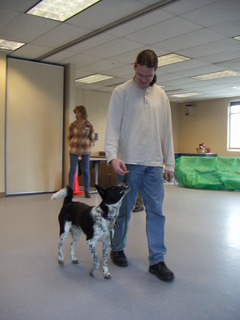 After a lunch of sandwiches, the plan for the day mainly involved breweries, for which Milwaukee is famous. First up was a tour of the Sprecher micro-brewery. Our tour guide was fun, although she struggled to make her jokes penetrate the skulls of the crowd. Presumably at midday on a Saturday, it was still too early. We got four samples as part of the tour, each a couple of hundred millilitres or so. Despite my sadly atrophied beer-drinking skills, I managed to put away all four. Mai bock, pub ale, black bavarian, and triple abbey. All four were pretty good, in fact, which is the advantage of going to a micro-brewery. My favourite was probably the triple abbey, which was nice and light, which is what I needed about then. I was sipping my beer, very, very slowly, but you should savour this kind of thing. I also went for a packet of "cheese curds", which is a new bar snack on me. It turned out to basically be cheddar cheese, which is OK, but nothing to shout about. Although these were jalapeno cheese curds, and they were nicely spicy.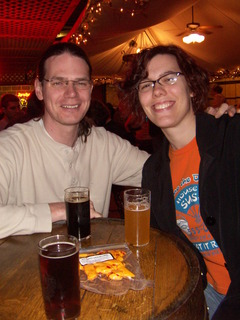 Unfortunately, due to me being slow to make my way through my beer, we were about two minutes late for the scenic lakefront brewery tour, so instead we went to the Miller tour. Miller, of course, being the exact opposite of a micro-brewery, falling more into the "gigantic soulless corporation" mould. Which was a good contrast, at least. Certainly their corporate video was hilarious. Apart from making it a little more explicit that "Miller time" means having sex with a random stranger you met in a bar while drunk, and that this is the point of drinking beer, there were also the claims that Miller had invented the beer garden and various other innovations. The disappointment for me was that they never mentioned Miller's original name, M#ller. Also, we never did figure out why the Miller logo has a star of David in it, even after looking at Wikipedia afterwards. Sounds like there's a story there. We were given some free beer too, which tragically I was completely unable to put away. But I guess if I'm going to waste beer, it may as well be Miller. They also provided us with free postcards, which is a recipe for trouble if ever I saw one. Here's a picture of a soulless corporate machine: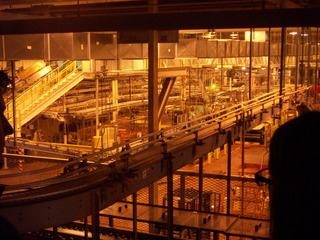 For dinner Jenice cooked up some spicy beans and rice, while Andrew put some pork chops on the barbeque. When I asked what was in the beans, Jenice rattled off a list of a dozen or so spices and flavourings. A far cry from the two or three I usually manage - I have no chance of reproducing that meal. Maybe that's why, for the first time of the journey, I clean forgot to photograph my food.
And then we went to the pub. The first one was called "BBC", a fairly college-student-oriented place. Due to a Heinekin promotion we were issued with free Heinekins, after answering (or, in my case, failing to answer in an unusual accent) a couple of trivia questions about the brand. I still wasn't in a position to take advantage of the free beer, unfortunately. I much preferred my "fat squirrel ale", which was excellent. I'm very pleased that it's possible to get good beer here, but I guess if you can get good beer in one American city, it must be Milwaukee.
We moved on to an Irish bar, which normally I avoid, but this place was pretty good, with a band of old-timers playing traditional songs. It was also hosting a Scottish military dinner, with lots of people in kilts wandering around. It was a relaxing place to wind down, albeit with me declaring defeat and sipping on a coke instead of a beer. Next time I visit Milwaukee, I will practise first.