Nairobi to Dar
Tue, 15 Jul 2008 06:11:00 +0000
Nairobi Day 2 Index Dar es Salaam Day 1
Another five o'clock morning. That missing hour or two of sleep really does pinch, especially when it's dark. But I didn't have any trouble getting up at the right time, and shuffled downstairs. The reception guy cuts a pretty sinister figure, lurking in the dark, wrapped in an indistinct blanket, and whispering out to you. But he's very friendly and helpful, and got me to my taxi.
The Scandinavia Express bus terminal is a shabby but well-lit place, and at 6:00 in the morning, a haven from the paranoia of the dark streets. There were a few other people there, several curled up asleep. There was even a kid asleep on a lump of foam right in front of the check-in counter. I had to delicately lean over her to confirm my ticket.
I had a window seat, although since there was someone in my allocated place I took the one opposite. The bus is a bit run-down and doesn't have a toilet, but the seats do recline. So I pretty much straight away began catching up on that missing sleep.
We quickly emerged from the city into a savannah dotted with acacia trees, just like Africa is supposed to look.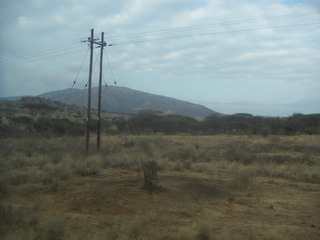 I never got to see any wildlife, unsurprisingly. But there were the occasional maasai herder tending goats or cattle, and we even passed some traditional-looking round mud huts, encircled by thorn bush fences.
More commonly though, we passed through dusty little towns of mud brick and corrugated iron. They usually had both a church and a mosque, a far more convincing display of religious coexistence than Jerusalem, or anywhere else in the middle east. Most of the churches were Pentecostal, and I expect that there's a fairly rich brew of Christianity and traditional beliefs practiced inside.
Nairobi is quite close to the border, so we got there quickly. As I had guessed, it would have been perfectly fine to get a visa at the border. I knew the visas were available, I just didn't know if the bus would stop long enough. In the end we were there for 45 minutes, which would have been plenty of time. I did have to queue for the usual exit/entry stamps. A fellow traveller in the queue was from Germany, and I struck up a conversation in terrible German. That allowed us to help each other navigate the immigration process, which was tricky because blank immigration cards were only available from the windows, which were all blocked by massive queues.
I bought a couple of packets of biscuits from one of the traders who come past the bus windows, and paid an outrageous 4000 shillings for them, a bit over USD 3. But I was starting to realise that there wasn't going to be any obvious break for food on this trip, I'd have to get something portable from these little stops. The bus conductor did issue a boxed mango juice to each passenger as a reward for crossing the border though. Sweet, sweet vitamins!
We made quite a lot of stops to pick up or drop off passengers. The biggest town was Arusha, which even had a few skyscrapers. Mostly just little places though. The landscape changed regularly. Baoab trees sprang up, the first time I've seen them in real life.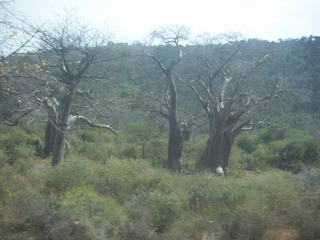 There were long stretches of cornfields and bananas, and an unusual spiky-leaved crop which is a complete mystery to me. Sometimes the landscape was quite lush, other times arid. It certainly did feel like Africa.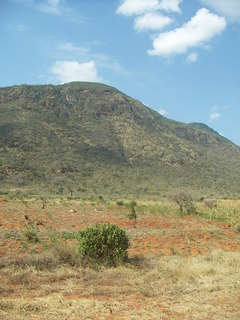 The other passengers were a cheeful lot, lots of laughter and Swahili chatter floating around. The two guys in front of me spent the trip discussing regional politics. Since one was from Kenya and the other from Uganda, they spoke in English. It was frustratingly difficult to listen in on their conversation. But it's nice to hear random people discussing the big issues of the day like that. You don't overhear such engagement on trains in the UK or Australia.
As the sun started setting I began getting nervous about what I was going to do in Dar es Salaam when I arrived. I hadn't made a hotel booking because Wikitravel had such a long list of suitable places, and I thought I'd have plenty of time to look around. But it was looking like we weren't going to be in until well after dark, and walking around the streets of Dar es Salaam with my backpack looking for a place to sleep when it's already late didn't appeal. I thought about using my new phone to make a reservation, but they probably wouldn't understand me over the noise of the bus, and anyway I should save that credit for a real emergency. So instead I sat and fretted as dusk turned to pitch black with the bus still hurtling along the road towards Dar.
Around nine we got into the outskirts of Dar, and ran straight into the most appalling traffic. We crawled along for 20 minutes, with me getting more and more frustrated as I glared at my GPS. Unexpectedly we turned into a bus terminal still 5km from the centre of town. Apparently lots of people get out there. There was another frustrating wait as a couple of women with an enormous collection of luggage searched the hold for the one last bag that had got filed in the wrong place. I actually got off because I thought the bus had stopped, but was told that we were still going into town. And eventually, with a lot of nervous inching forwards and backwards, the bus lurched out of the bus terminal gate.
This time we got to the bus terminal I'd been expecting. Still a bit of a trek to anywhere to stay, however, and walking at 10:00 at night was out of the question. I took a taxi instead, asking for the YMCA, which apparently is a nice safe choice. I had to haggle the fare, but with me being desperate, and obviously so, I wasn't going to push too hard. We got to the YMCA, and the driver offered to wait in case the place was full. I'm glad he did: it was full. In fact, I get the impression that it's usually full, and it was crazy to turn up late at night expecting them to have a bed free. I asked them where I should go next, and was told the Safari Inn. That's good, that agrees with Wikitravel. So the taxi drove me there. I asked the driver to wait again, but this time there was a spare room: one of only two available. That was such a relief, I can hardly describe it. I fairly tripped back down the road to tell the driver the good news.
So I made it to Dar es Salaam, and I had a pretty good trip. I'm starving, having had only three smallish packets of biscuits and two bananas for the day. But I'm ready for a good night's sleep.