Nong Khai and Vientiane
Mon, 19 May 2008 03:40:54 +0000
Lazy in Thailand Index Vientiane
I slept pretty well, and woke up properly around 7:30. The train arrived in Nong Khai about half an hour late, not too bad for Thai trains. As you might expect, there's not a lot to Nong Khai, just the usual small border town. I bought my ticket back to Bangkok and then began the process of getting over the border and to Vientiane. The first thing to do was get a tuk-tuk to the friendship bridge. But here I made a mistake: I thought I was asking to go to Thai immigration, but in fact the tuk-tuk driver took me to a travel agent, and I couldn't be bothered arguing. The travel agent charged me 2000 baht to fill out some forms and hold my hand during the immigration process. Since I knew a visa cost 35 US dollars, that was clearly most of the price I was being charged, and so I decided that what with tuk-tuks there and back and bus tickets and so forth, it probably wasn't such bad value. But I really would much prefer to have just done it myself. I even had 35 US dollars ready to go.
I had to queue up at Thai and Lao immigration myself, but the bloke from the travel agent was tailing me the whole way so he could put me on the right bus. Once over the bridge on the Lao side, I was put on a mini-bus, and this cost me my remaining 380 baht. That's a lot of money, but it is 20km to Vientiane. The guy didn't want to take me to the hotel I wanted, telling me it's very expensive, but I insisted.
The hotel is the Lane Xang Hotel, which is in fact fairly expensive for Vientiane. But I felt like splurging. It's still only 30 US dollars a day, though. For that I get a nice double room with hot shower, for once partitioned off from the toilet, and all the luxuries like towels and shampoo and stuff. Plus a buffet breakfast. And a view of the Mekong from my hotel room. Pretty good value I'd say.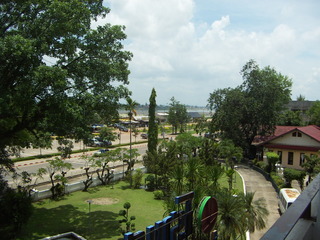 Having checked in, I had one pressing issue: I was starving, not having had any breakfast. So I found a simple noodle place and got some chili basil chicken noodles. Basic food really, nothing special. On the way back I got some roast banana and some things wrapped in banana leaves to eat in the hotel room. The roast banana doesn't taste particularly special, it's just filler. The banana leaves turned out to be full of white gelatinous stuff. There was a thin layer of filling towards the bottom, which seemed to be miscellaneous gristle. Very odd. Not especially nice, but I'd eat it again.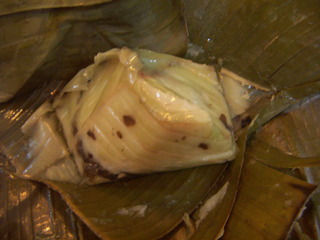 Then I decided to go for a walk down by the Mekong. The whole way is lined with little open-air restaurant/bars, and eventually I had no option but to try one out. I ordered a Beerlao and perched myself on one of the triangular cushions they have laid out.
Casting an eye over the menu, there was one option that really stood out: "hatched egg". I knew what that would be: duck eggs, where they wait until the embryo is well-developed before boiling it. This, I absolutely had to try. I hope you're not eating at the moment: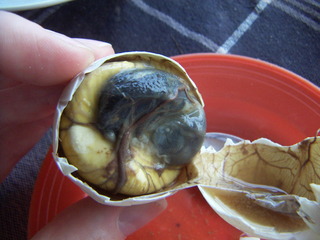 They actually delivered four of the things, which is more of a commitment than I had been planning to make. But I steeled myself to the task, and made my way through all four of them. If you're wondering what they're like: the yolks are much like any hard-boiled egg, and the white is so hard and rubbery it took several attempts before I convinced myself that it was edible at all. And as for the embryo itself... the less said the better. I also ordered a papaya salad to help keep that lot settled down, and that was actually worse, completely overloadedd with salty sauce.
Despite, or more likely because of, the food, this was definitely one of those moments. Reclining on my cushion with a cold beerlao on the low table. The Mekong running past in the distance with no development in view beyond the kind of rickety thatched structure I was sitting in myself. The sun gently setting.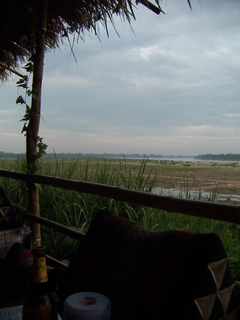 The next time I visit Vientiane I'm going to be sitting somewhere around the same spot, gazing out on the rows of indistinguishable condos, listening to the tourists fresh off the shuttle from LAX squealing in delighted horror at their impeccably hygienically presented single hatched egg. And I'm going to smirk and reminisce about how it was in the 2000s, when it was nothing but rickety wooden platforms and scruffy reed mats, and you could get a bowl of four hatched eggs for 3000 kip. Until someone hits me and I slink away to do my smirking somewhere else.
It looked like at least some of the bars had live music, so I thought I might give that a go. I picked a likely looking place, but it never seemed to get going, and I didn't want to just hang out there. So instead I made my way to the night market, in search of some savoury (and/or revolting) snacks. After some wrong turns I eventually found it. I got myself a deep-fried thing which turned out not to taste of anything, a dark blue sweet sticky-rice thing which was pretty good, and a more pasty thing which was also not bad. Not the best street food I've had on this journey, but interesting.
After having one more beer in a rather gentrified-looking place on the river, I gave up on live music and went to bed. Maybe tomorrow.