Osaka
Thu, 01 May 2008 00:01:11 +0000
Too Many Temples Index Bright Lights of Tokyo
I have one major problem with Japan. I have to keep telling myself over and over again: I can't eat one of everything. I'm constantly bombarded by nice, or at least interesting, things to eat. I keep falling into the trap of thinking that it's better to just eat it now, rather than try to come back and find the place later. The fallacy being that later I will have found something else to try. I'm going to do myself an injury if I keep this up.
Mind you, the day's eating started pretty inauspiciously, with the hostel breakfast. That's the last time I fall for that. A hash brown, a couple of slices of processed meat and processed cheese, one piece of bread with butter and jam, and a boiled egg. It's food, but compared with the delicacies available from the 7/11 for less cash, it's pretty miserable fare.
First bit of touristing for the day was Osaka castle. This has been alternately burned and bombed to the ground many times throughout its history, leading Wikitravel to sniffily dismiss the present incarnation as a "castle-shaped museum". I wouldn't go that far: the various defensive walls are original, and at least the exterior of the castle has been fairly faithfully restored. The exhibits, however, aren't much cop. Some interesting screen paintings and drawings, but not much in the way of actual artefacts. And not enough English captions either.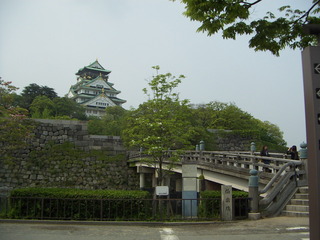 I foolishly had the idea of walking from the castle to the train station, but fairly quickly realised that it was further than I thought. So I just caught the subway. My mission was to find a place that serves either the cabbage pancake things, or the octopus dumpling things, both of which are apparently famous Osaka specialities. I thought that I could just wander around some busy-looking streets and find such a place easily enough. In fact that didn't work, but I did find a place that serves both in the train station. I attempted to order the half a pancake / five dumpling combo, but in fact got only a whole pancake. Disappointingly, it didn't come with the creepy fish flakes that wave at you when sprinkled on hot pancake, as I'd had earlier when Mick cooked them for us in Ealing. Still good though.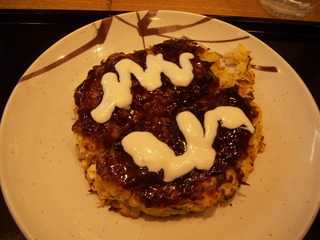 Of course, I had to follow up with the octopus dumping things despite the pancake being enough already. They were great, although the octopus was very tough.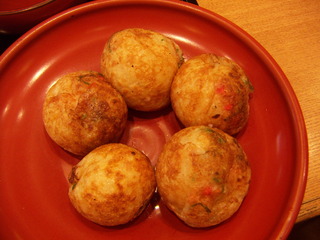 For desert I bought a custard pastry from the bakery, which was OK. But since I was slightly disappointed by it, I bought a red bean bun from the convenience store. At this point I was starting to feel properly bloated.
There are probably better things to do in Osaka, but the aquarium sounded appealing after all the temples and castles I've been touring the last couple of days. And it is a pretty good one. Their star attraction is a whale shark, albeit one that's only two or three metres long. But the tank is impressively large.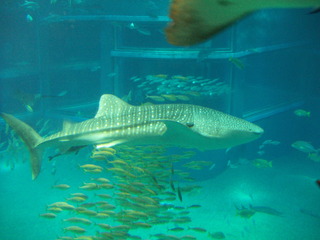 The highlight for me was probably the sea otters, which I've never seen before. I was astonished at how big they are, more like seals. Still the same old otter playfulness though. It was also good to see live giant spider crabs - there were stuffed ones in the Perth museum when I was a kid, which always fascinated me. There were also giant octopuses, although these simply lay on the rocks looking like deflated carrier bags. All in all, quite a nice aquatic zoo.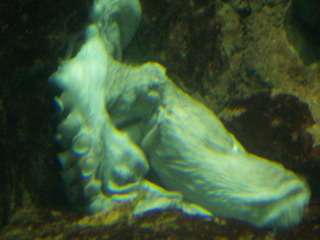 But that's all I could be bothered doing today. I went back to the hostel and fought with the internet a bit. I'm having trouble figuring out how to get from Singapore to Sumatra without ending up in a "resort". But I guess it can't be that hard once you're on the ground. Things should be pretty easy in south-east Asia at least until Cambodia. Indonesia and Malaysia even use a Latin alphabet, what luxury!
For dinner I rounded off my day of Osaka delicacies with some Osaka-style sushi. Apparently "Osaka-style" just means that the fish is smoked. It was OK, but not in the same league as lunch. And I finished it off with a Beard Papa cream puff, which was identical to the one I had with Chris in London last year. But now I've had one in Japan.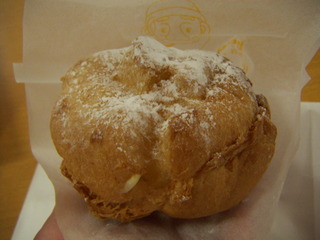 Tomorrow it's back to Tokyo - with a brief stop in Kyoto to pick up my towel, which I carelessly left behind yesterday morning. A little sight-seeing maybe, but mainly I should prepare myself for south-east asia.