Ottawa
Fri, 25 Apr 2008 08:05:34 +0000
A Day of Travel Index Another Long Day
The major reason why I'm in Ottawa, which in terms of exciting cities of the world is right up there with Canberra, is that I need to get a Syrian visa, and Ottawa is my first good opportunity to get one. So that was the first thing on the agenda for today.
Well, apart from breakfast. On the recommendation of the guy at the front desk, I went to "Cora's" for breakfast. They serve fruit there, so it's healthy, right? That's why I balanced things out by ordering a cinnamon bun fried in batter topped with crispy bacon and eggs over easy.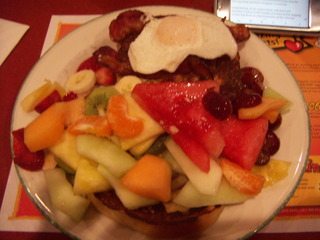 So then, off to the Syrian embassy. The woman behind the counter was very friendly and helpful. Even better: they will turnaround a visa application the same day if you hand it in before 11:00. All I needed was a money order, two photos, and a form filled out in duplicate. All of these components were available nearby, so I went off to collect them, which I did with 45 minutes to spare. And then, when I handed over my passport, the bad news: you can only apply for a Syrian visa in a country where you are a citizen or are resident. Damn.
That makes life kinda tricky. I need to post my Australian passport to Canberra to get the visa and have it returned to Perth. Meanwhile I'll be travelling on my British passport, including to Perth, which is technically illegal. I will also need to switch from my British to my Australian passport at some point, so that the entry and exit stamps match up. Somewhere along the line I'm going to get asked some awkward questions as a result of this.
So I resolved to think about that later. In the meantime, I have some touristing to do. The war museum sounded good, since Canada has fought some wars that don't get much attention. The first thing you notice about the war museum is that it looks like the Jawa's truck in Star Wars: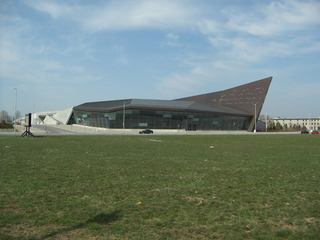 Or OK, maybe that's just me. The exhibits inside weren't too bad. It's nicely unapologetic about war and what it's about. Not glorifying war, but just pointing out that it exists and it matters. We went through the wars between the first nations through to the revolutionary wars, which was a good tour of why Canada exists in the first place. I was especially interested by the Fenian rebellion: apparently they thought they could take over Canada and then ransom it to the British in exchange for Ireland. Ambitious, but, er... well, stupid. I was just explaining the song "Perth Regatta Day" to Andrew the other day. This puts the Fenians in a rather less flattering light.
I went through the Boer war and the First World War, but skipped everything later so I could go to the Civilisation Museum. And this too I went through fairly quickly, since I was starting to fall asleep and needed some coffee. The first nations exhibit was far more thorough than the one in Toronto, but suffers from a mild attack of museology. It wasn't absurdly politically correct, but getting there. The totem poles are amazing though.
On the top floor they have a tour of European Canadian history. It starts with the Vikings, which is a fascinating topic in itself. The museum makes discovering a whole new continent sound much more matter-of-fact than it really is. After a while it gets through French settlement and English settlement, and winds up at an entire town that's been recreated inside the museum. The weird artificiality of the place, including an artificial dusk sky illuminating the ceiling, reminded me most of Las Vegas. Impressive, but I'm not sure I feel any more educated because of it.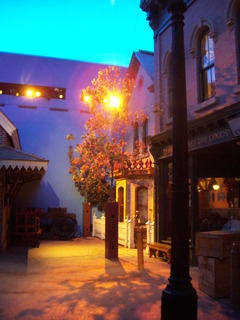 On the way back to the hostel I wandered past the parliament building. It's a pretty nice old pile. I'm a bit ambivalent about gothic revival - it always seems a bit artificial and pretentious. In fact, this part of town reminds me more of Disneyland than anything else. But it's pretty tasteful as well as being an impressive edifice. I like it.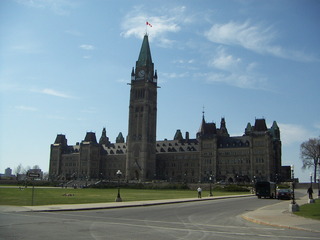 I spent the late afternoon on the internet trying to sort out various niggles in my travel schedule for the next few weeks. As always when I try to use the internet, it left me frustrated and depressed, so as always when this happens, I cheered myself up by going out and overeating. I probably should fix that: preferably by using the internet less, rather than eating less when I'm annoyed.
There's a fairly limited selection in the area, so I went to a Scottish pub. It turned out that not only did they have proper ales, but they were served in proper pints. The first pint went down so smoothly, I had no option but to order a second. It's amazing how the ability to drink beer comes back, provided it's the right beer. It went beautifully with my fish and chips.
On the downside, the barman rubbed me the wrong way. He kept trying to make conversation with me from five metres away behind the bar. At one point he even referred to me as "big guy", which given my current physique I can only interpret as sarcasm. Also, there's this outrage against common human decency: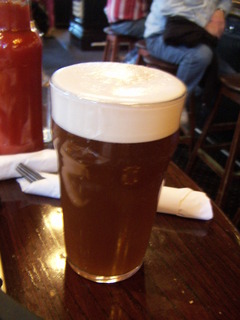 If this had been a real Scottish pub, it would have been appropriate to glass the radge cunt. This being Canada, it earned him an ostentatiously passive-aggressive 10% tip. And let that be a lesson to him.
Tomorrow is another day of travel, and worse, my train leaves at 6:00 in the morning, followed by the plane to Tokyo. I'm going to be a mess once I arrive, which is a pity since I really need to be efficient to get around Japan in just five days. Ah well, I guess it'll work out.