Palmyra Day 2
Sat, 14 Jun 2008 15:01:01 +0000
Palmyra Day 1 Index Syria to Jordan
The major sight left to see was the Arabic castle, perched on a hill overlooking the ruins and the town. The road up the hill runs behind the hill, so it's a bit of a walk. I decided to do it at dawn, to avoid the sun.
Incredibly, I woke up at 4:30, the ideal time. I slipped out of the hotel: as in Damascus, the reception bloke was sleeping in the entrace, presumably in case someone wanted to check in. I just tip-toed past him and unlocked the door to get out. It was a nice walk, not too far, but felt like an accomplishment. The wind was howling, and I was verging on too cold. I haven't bought a replacement jumper yet, that will have to be a priority.
I got to the castle about 5:30, when the sun was up a few degrees. Of course it's closed at that time, but I hadn't planned to go inside anyway. It's not a huge castle compared to some I've seen, and hardly ornate, but nice to photograph.
Not quite deserted: a couple of other tourists had taken a taxi up to the castle already, but I was soon on my own. It's the view, rather than the castle itself, that make it worth going up there. It doesn't come up well in photographs, but the sun rising over the ruins is a gorgeous sight.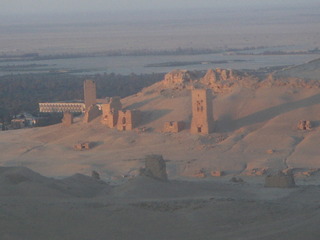 With a clear view over the ruins, I saw that I'd missed the city walls yesterday, so I walked back via those. To me, they look much later than the ruins themselves. And not all that interesting. I should read up on Palmyra to find out the full history of the place. Right now, I'm just in "look, don't understand" mode. Which is still fun.
I got back about quarter to seven, and the reception guy was still asleep. I did some reading and some packing and went down to breakfast at half past. Same breakfast as usual: flatbread, cream cheese, marmalade, olives, and tea. I'm afraid I don't like this breakfast much, but it's food. And included in the price of the room.
I slowly got myself organised and checked out. The bus back to Damascus is at the other end of town, but I decided to walk anyway. It was pretty hot by the time I got there: I used my umbrella to fend off the sun. The next bus was at 11:00, a wait of about an hour and a half. No problem, I can wait. They have a restaurant there with ceiling fans, so it was a relatively nice place to wait. The lady wouldn't sell me a ticket until the bus was actually there and waiting, which I guess makes sense. But that meant I had to keep checking back to see if it was there yet. It only turned up at ten to eleven, and we got on the road at ten past.
For some reason I really enjoyed this bus trip. There wasn't a lot to see out the window apart from desert, but it's still fun to stare at it. Unfortunately the TV was working, so I plugged in the few scraps of music I've been able to download. I guess it's a chance to relax.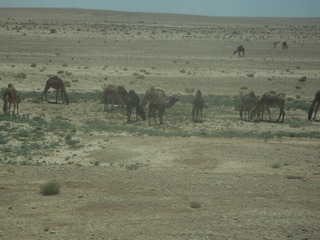 I wasn't entirely clear whether there was a bus to Amman or if I had to take a service taxi, so when we got to the station I asked around about that. Nope, I have to get a service taxi. And in fact they leave from a completely different station to the buses, so I have to take a taxi to the taxi station and take a taxi from there. Odd. I have no idea how much the fare will be, but presumably less than 2000 pounds, and I have plenty. I'll change whatever's left to dinar when I get to Jordan.
I checked back into the hotel. This time I have a single room, which costs a bit over half of the one I was in before. I don't know how I managed to book a double room before, pretty silly. This one's a pretty crappy room though. I thought that the power socket was broken, but it turns out that the brand new Nokia-branded charger I bought has a dodgy cable. Shame on you, Nokia.
Today is Friday, so everything is shut. Tomorrow I have to go to the department of immigration, which I spotted when I was looking for a police station the other day, but forgot exactly where it was. So I scouted around to nail down the location. It's only a few hundred meters from the hotel, which is convenient. I tried to ask the guards what time it opened on Saturday, but they didn't speak any English.
For dinner, I had decided to accept Wikitravel's recommendation of the Midan area south of the old city, a bit of a walk from the hotel. It had specified a particular main street that I couldn't find on the hotel's map, so I was a bit vague about where specifically to go. But I think I found the right place. Lots of butcher shops, kebab stands, and sweet shops with big pyramids of sweets for sale.
However, I didn't want to get a kebab, since I can have that anywhere. Instead I went to a promising-looking restaurant. I ordered an appetiser and a main despite not having the faintest clue what they were, which I've seen can be dangerous. Indeed, when the appetiser arrived, it was absolutely huge. There was a plate of miscellaneous pickled vegetables, and a plate of a kind of mixture of finely chopped parsley and onion, or something.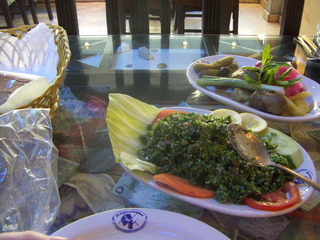 I decided that I was supposed to roll the mixture in flatbread and eat it like that. But it was too much for a main, let alone an appetiser. I had to drag over the waiter and explain that I didn't want a main any more, and he accepted that. I worked my way through as much of the food as I could. It wasn't really bad, quite refreshing really. I couldn't finish even the appetiser, and paid up. It only cost 160 pounds, about USD 3, so I left a 50 pound tip.
Out in the street I resolved to buy some of the sweets. Mostly they seem geared towards selling big elaborately-packaged boxes of the stuff, and I only wanted a little bit. But I figured that I could at least buy a slice of the huge round dishes for sale. I got six pieces of a syrupy cake covered in mixed nuts, and ate it on the walk back. It turned out to be more than I really had room for, and I was pretty full by the time I got back to the hotel.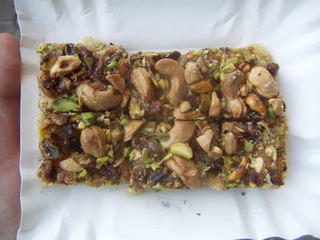 There's absolutely no need to get up early tomorrow, since I just have to pop over to the department of immigration, and I doubt they will be open before nine. So a good long sleep is in order.