Siem Reap to Phnom Penh
Mon, 26 May 2008 06:00:59 +0000
I again got up pretty early to make sure I had plenty of time to get ready for the bus. And also, to make sure I had plenty of time to use the toilet. I was bit concerned about whether I could make it through a six hour bus journey, but with the Imodium and some willpower I thought it would probably be OK.
I was picked up by a minibus, and I was initially a bit concerned that this might be the bus that I'd be sitting on for six hours. But I soon reassured myself that this was just taking me to the real bus at the bus depot. The bus depot itself is the most miserable example I've yet encountered, unpaved and either dusty or muddy. I only had to walk five metres from the minibus to the coach, but that was enough to make me regret wearing thongs instead of boots.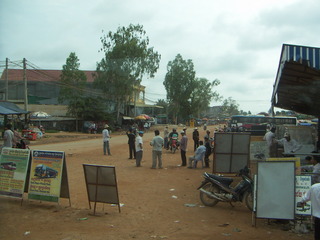 However, the bus itself justified the extra five dollars I spent on "VIP"-ness. The air-conditioning wasn't very good, still leaving me sweaty, but better than what it's like outside. What's odd is that we had a stewardess, who made announcements in khmer and english and even came by with "breakfast", which turned out to be just a couple of pastries rattling around inside a deceptively large box. But all in all, a pretty comfortable ride.
It's a fascinating view from the window. All the houses are buit on stilts, often quite high up. The perfectly flat countryside must flood pretty regularly. Everywhere there are rice paddies and ponds, so it seemes like the whole place is flooded already. According to my guide from yesterday, the rainy season has just started, and everyone's just starting to flood the fields in preparation for planting the first rice crop of the year.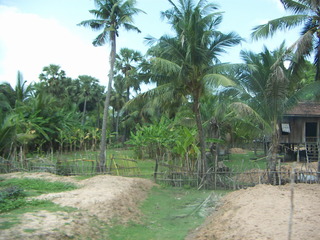 There's also plenty of livestock about, especially rather scrawny-looking cattle. They are the Indian breed whose name escapes me, with the hump behind the neck, but I seem to remember them being mainly noted for their drought resistance. That doesn't seem appropriate in this distinctly soggy landscape. The water buffalo seem more at home. I don't think I've seen water buffalo before, and they're huge. You see these little kids leading them around on pieces of string, which seems incredibly precarious.
The other thing you see around a lot is signs for political parties. I thought at first that these must be labels on local party headquarters, but there are far too many of them for that. I guess they must be expressions of support from the population. They all look almost identical, white text on blue background, so I guess the government regulates political activity pretty closely. Mostly you see the Cambodian People's Party, but also lots of Funcinpec and Sam Rainsy Party signs. Those are some names I haven't heard in a long time. I don't know if this is because I left Australia, or if the world just doesn't care about Cambodian politics any more. I seem to remember having strong opinions about which party I wanted to do well in the elections, back in the 90s, but nowadays I can't even remember which one. I also saw a lone sign for Norodom Ranariddh's party. I remember him sinking without trace, so either he's still clinging on or it was an old sign.
The bus made one half-hour stop for lunch, rather early at around 10:30. I had only had the pastries for breakfast, but I still wasn't very hungry. I did decide to get some fruit, on the principle that sick or healthy, vitamins are good. I was tempted by the jackfruit, but remembered the "peel it, cook it, or forget it" principle and got some bananas instead. Really good they were too. Presumably they haven't been through the industrial ripening process like the bananas I'm used to.
I followed our arrival into Phnom Penh carefully on GPS, because I wanted to see where we stopped and get a hotel close by, but I also wanted to correlate that with Wikitravel's recommendations. I deliberately hadn't booked anwhere so I could wait to see what was nearest. Fortunately, the bus depot is on Sisowath Quay, the same street as the hotel that was on top of my list. So I put my head down and shoved my way through the crowd of extremely aggressive tuk-tuk drivers who crowded round the VIP bus, and walked down the road.
It turned out to be quite a long way, and when I got to the place where the hotel was supposed to be, it wasn't there. I wandered around confused for quite a while, all the time receiving more and more insistent inquiries from the tuk-tuk drivers, who can smell a lost tourist a mile off. Eventually I cracked and asked one of them where the hotel was. He told me it was closed, which normally would be a classic tuk-tuk driver line, but in this case corresponded well with what I was seeing on the ground. So plan B: another place that was just around the corner. This time I found it no trouble. It turns out to be an Irish bar, and the guesthouse rooms are fairly grotty (back to having my shower in the toilet, sigh). But it'll do, and I have my own bathroom, which will be important until the stomach bug passes.
I was feeling properly hungry by this stage, so I went out for a mid-afternoon snack. I went to a French cafe which looked interesting, and ordered a baguette. It turned out to have some kind of rather odd sausage in it. Pretty tasty.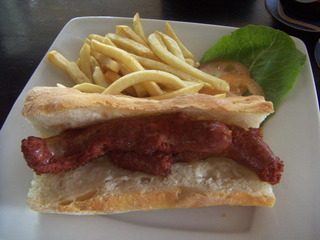 As I was using their free wifi to post some blog entries, an elephant walked up to the front door and one of the waitresses went outside to feed it some snacks. That's something you don't see every day.
I went back to the hotel for a bit, just to pass some time in front of the TV. Then I thought I'd better have a proper meal for dinner, so I went to a promising-looking restaurant I'd passed on the waterfront. It claims to be generally south-east-asian, so I guess it's a bit of a fusion restaurant. It turned out to be distinctly upmarket, with most meals around the $15 mark. But at least I'm unlikely to get food poisoning from them, so I thought I'd have a go anyway. I ordered a pumpkin curry. It turned out that my appetite is not nearly as strong as I thought it was, and I couldn't finish it. Tasty though.
I'm thinking that I'll get another fairly early night, and then do the two or three important sights that Phnom Penh has to offer. I don't think there's any need to spend more than one full day here, even though the place seems to be full of tourists having a good time. I'm keen to get on to Vietnam.