TAZARA Day 2
Sat, 26 Jul 2008 08:50:13 +0000
TAZARA Day 1 Index TAZARA Day 3
I had a fairly good night's sleep, despite regularly waking up. This is such a long train journey, there's no reason not to just sleep in in the morning. When I eventually got up, I got together my bread and jam and orange juice and went to find somewhere to have breakfast. The restaurant car was nearly deserted, and I settled in there. I was joined by the German girl from the couple I was talking to yesterday, and we chatted about Africa and the view from the window. A nice way to start the day. After a bit we were joined by the German guy as well. They were getting off the train at Mbeya, so the journey was almost finished for them.
I went back to the compartment to read for a while and finish off the orange juice. There's really not a lot to do on this journey except read and chat to people. The view from the window is interesting, but not 48 hours worth of fascinating.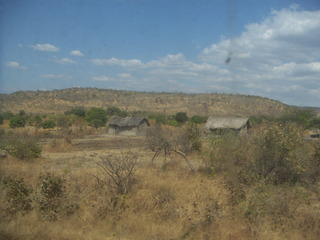 And eventually there was nothing for it but to get my bread and jam together again and go back to the restaurant car for lunch. I joined the English medical student and another English medical student who just happened to be finishing up her internship. They were playing some competitive game of cards, and I grabbed bits of conversation between rounds. After a while two Dutch girls turned up and joined in the game. With all my crumbs and bits of jam and cutlery I felt a bit in the way, and I left to carry on with my reading.
In fact I fell asleep for a fair while and it was already three when I woke up. How the time passes. I snacked a bit more and read some more. Eventually around quarter to six we pulled into Mbeya, the biggest stop so far. There were lots of people selling things through the windows of the train. One of my roommates bought a silly little whistle from a vendor, which he seemed to find hilarious. I noticed the German couple from earlier and we shook hands goodbye through the window. Off to enjoy the wilds of Tanzania.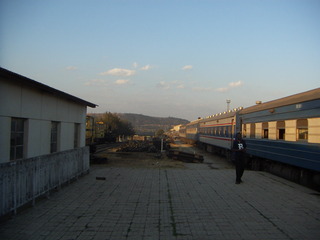 We were not off straight away though. There was a very long wait, as the sun set and I was prevented from reading my book. One of the conductors came by to apologise, explaining that they were refuelling and it would take 45 minutes. I went for a wander around the station to see what I could see. The hills around Mbeya are gorgeous in the late afternoon haze.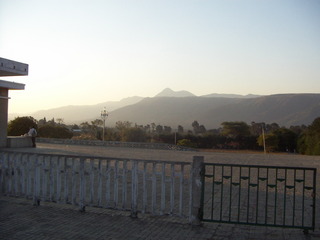 I eventually went off to the restaurant car, where there were lights and food. I joined the guy with the beard from my compartment and had a meal and a couple of beers. He turns out to be a Polish monk, and before long we were deep in conversation about life in Africa. He's had malaria 44 times, which seems like an awful lot. When he discovered that I spoke reasonable German, we switched to that for the rest of the evening. I felt a lot more fluent in my German this time, possibly because I wasn't talking to a native speaker, and possibly because of the beer.
I did find the conversation a bit wearying after a while though, and around 9:30 I pleaded the need to brush my teeth and went to bed. Good, thick blankets they have in these compartments. It's beautifully snug here.