Tallinn
Mon, 20 Apr 2009 05:59:00 +0000
This is clearly a party hostel - they were still going at 3:00 last night. It wan't a problem with earplugs though. And on the plus side, no more weird itchy reaction, so I can rule out horrific skin diseases as the cause of that.
The first thing I wanted to do today was do my laundry. This proved to be a problem. The hostel does do laundry, but they're "really busy". Instead I was directed to a laundromat quite a walk away outside the old town. OK, so off I walked. But I scoured that street from end to end and back again, and couldn't find any laundromat. Cursing, I stalked back to the hostel. I was offered alternatives that involved catching trams all over the place, but it seemed easier to jsut handwash a couple of changes of clothes. But I was annoyed.
After getting breakfast from a cafe, the first thing on the agenda for today was visiting a museum. Tallinn is one of those cities without one big museum, just hundreds of specialised ones. I settled on the historical museum. This turns out to be just two rooms, one of which is devoted to coins. The other does have some interesting snippets to relate, such as the fact that Denmark's flag was, according to legend, supplied by God as a sign that the Danes were about to completely slaughter the Estonians in battle. Which they did. Estonia participated in the familiar story of being invaded and occupied by all and sundry, although it had more information about the "golden age" of being occupied by Sweden, who apparently did a reasonable job of running the province.
As a slightly more offbeat excursion, I went off to visit the "Bronze Soldier", the momument to Soviet soldiers that caused all the trouble last year. It used to be prominently positioned in the park opposite the old city, but now it's a bit of a trek away in the military cemetary. I tracked it down on the map, decided it was walkable, and headed off. On the way I passed some of the more Soviet areas of the city, which honestly was a bit of a relief after the Ikea-alike office blocks and Disneyland fairy castle old town.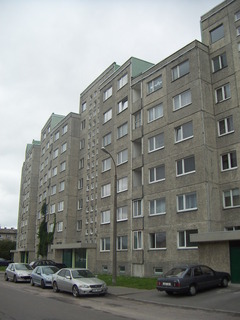 The cemetary is a mixture of Estonian and Russian, and I guess a mixture of various denominations as well. I'm not as familiar as I should be with the meanings of the different kinds of crosses. There seemed to be plenty of Russian names inscribed in Latin, and I guess that some of the Soviet-era graves are Estonian names in Cyrillic.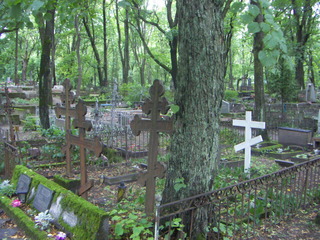 It was hard to navigate to the military section of the cemetary, I kept being blocked by walls, but I eventually found a neglected nettle-strewn path leading to the squeakiest gate in the world and then the identical anonymous-looking headstones of the military cemetary.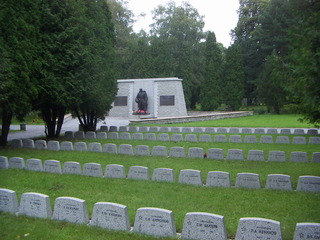 I find it pretty hard to see how the new setting of the memorial could be construed as disrespectful: rather than being a pigeon-latrine and impromptu homeless shelter, it's now occupying pride of place amongst presumably the heroes of the Estonian state. Also, for all the wailing and gnashing of teeth, there were only a few small bouquets of flowers from the local Russian community, much less than I expected. Maybe everyone's moved on. I guess after a discrete interval the Estonian government will just bulldoze the thing flat when no one's looking, and that will be that. (Note to Putin: Only joking, ha ha ha! No need to invade.)
I found a restaurant in the old town for lunch, a not especially remarkable pork fillet. Then I thought one more piece of touristing, so I visited the Russian orthodox cathedral. It's a very nice-looking building, I guess due to being freshly renovated since the USSR collapsed.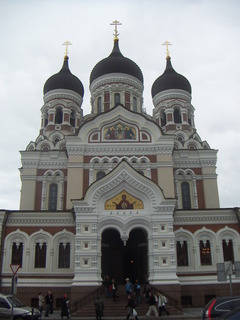 It's very gold inside. You're not allowed to take photographs, but there was a marriage party getting photographed inside, so I just pretended I was part of that.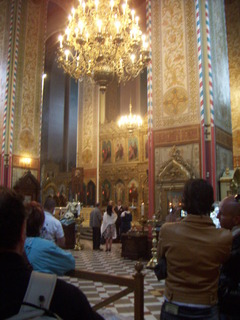 Back at the hostel, the party was already well underway, and the door was answered by a couple of girls who'd already had their quota, despite it still only being afternoon. I resolved to go out for a walk until a more appropriate hour. I passed some more of the city walls, which are really pretty fabulous.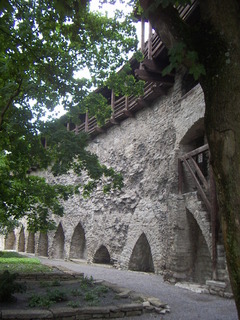 I had a beer in a random bar under the walls. Wasted some more time. Eventually I thought I'd have some dinner, and found the cheapest place I could in the old city. They gave me an odd dish of mince wrapped around a sausage, with a generous pouring of cherry sauce. Sounds odd, but it was great.
Things at the hostel seemed to have settled down a little, and I decided to be sociable for once. I got to talking to a German guy whose off to study Baltic studies in Targa. Sensible place to do so. There were also three guys who apparently run the hypemachine music blog aggregator website thing. Never used it myself, but I had heard of it. The three of them sat on the couch, each with their Macbook and Blackberry. It's terrible to see such chronic cases of technology addiction. I tut-tutted and read the news on my PDA.
So I wore away much of the evening. There was a guy from Vermont and a girl from Montreal, and various Australians and New Zealanders and so on. The German and I got onto the topic of Georgia, to prominent groans from the Estonians present. I wondered what the mood is in Estonia about this right now, and it turns out the mood is "can we please talk about something else?" So I did.
I left it a little late to go to bed, since my flight is at 10:00 tomorrow. But the airport is close, and there's regular buses, so I don't really need to rush.