Vilnius Day 1
Fri, 29 Aug 2008 16:21:29 +0000
Warsaw Day 2 Index Vilnius Day 2
I managed to get a reasonable amount of sleep by curling up on the seat. Regrettably I'm not as short as the Australian/Cambodian woman, but I did my best. There were several stops during the night, but I slept through most of them. There was no border check, which was good. Looks like my passport will be good for a few years yet after all.
Vilnius station is a nice-looking pile, small enough to be well-maintained. I had unfortunately forgotten to download maps or directions to the the hostel, so I had to ask around at the station. There's not a long way to go though, so I made it no problems. The hostel is a little basic, but comfortable enough.
Having stocked up on maps and so on, I wandered out into the city to find some breakfast. Along the way I passed the "Gates of Dawn", which seems to have a shrine above it. Most people who pass through stop and cross themselves, and others pray quite fervently, on their knees or singing hymns. So they're pretty Catholic here, I guess.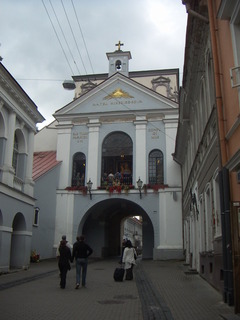 It was still too early for most places to be open, but I found a cafe and had some scrambled eggs. I then wandered over to a park to see what was there. There was a river and some ducks. Plenty good enough for a Sunday morning stroll.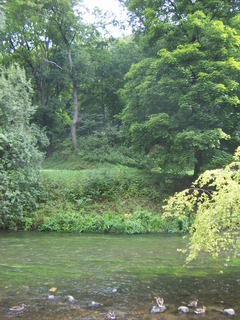 I went to the Lithuanian National Museum, which was a better effort than most of the national museums I've seen recently. There's a bunch of reconstructions of the kind of log cabins Lithuanians lived in in days gone by, which just looked cold. "Grandparents and children slept on top of the stove" is a sure sign that people of the day would do practically anything to stay warm, as is the name for the buildings: "smoke cabins". But then, I guess it's better than being deported to Siberia, which is what happened to most Lithuanians under Stalin. There was quite a lot of space devoted to that particular historical detail.
For lunch I found a place that looked Lithuanian and ordered what was allegedly their national dish, described as a kind of potato-based haggis. What I got was basically potato with bits of meat, but it was tasty enough.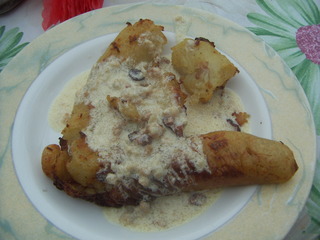 I also went for a look at a little church, St. Anne's, which apparently Napolean said he'd like to carry in his palm back to Paris. I guess he was exaggerating: if he'd really wanted to, he probably would have, or at least razed it to the ground so no-one else could. Cute enough, but I couldn't say it left me gasping.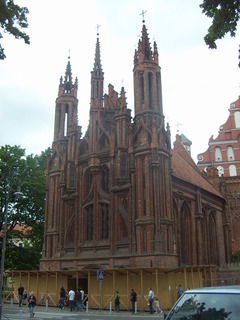 Also not leaving me gasping was the cathedral, which makes even German cathedrals look Baroque. Would it have killed them to put some colour around the place at least?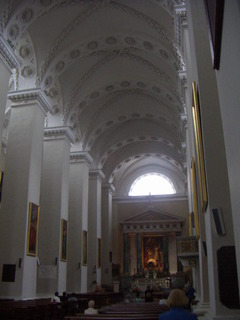 I went to a place that does pancakes for dinner and had a pork pancake, which was fairly good. I had to follow up with some cake, of course. And that made a good day's touristing. Good stuff.