Wasting a Day
Fri, 18 Apr 2008 02:21:28 +0000
Copping Out Index Back to Civilisation
Sunday in Sao Paulo, nothing to do. Why be a tourist all the time? Can't I just hang out for a bit? Yes, yes I can. And I did. Today I spent the entire day in the hostel, being dull.
I really can't emphasise enough how good the breakfasts are in the Sao Paulo hostel. Every single other included breakfast has been bread and water by comparison. Today, I finally got up early enough to have my pao de quejo hot, and it was well worth it. I've now resolved that as soon as I have access to a well-equipped kitchen and a decent run-up, I'm going to try cooking it myself. Home-cooking is the only way to get it properly hot, soft and crispy, especially outside Brazil.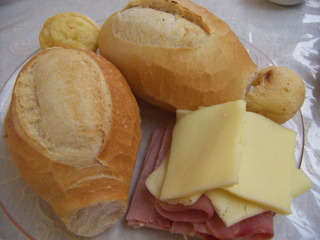 With the rest of the day I mostly caught up on my newsfeeds. I'm really going to have to turn off some of those subscriptions, I can't keep up with it all, and more importantly it's stupid to distract myself from the holiday.
I also brushed up on my guitar, because the Sao Paulo hostel has a guitar lying around in the lounge - next to the hammocks. Did I mention that the Sao Paulo hostel is really nice? It's really nice. Of course it's an acoustic, nylon-stringed guitar, and bends were completely impossible. But that's OK, because my skills have atrophied rather alarmingly. I managed to dredge a couple of songs up from the depths of my memory, so hopefully I can fake it when I come to compare notes with Andrew in Milwaukee.
The trip to the airport was fairly uneventful. Actually, I left it a little later than I really should have because I was trying to charge up all my batteries. So I managed to work myself up into one of my "am I going to make it" states. An interesting psychological condition, where the fact that I am obviously in plenty of time for my flight (I had four hours before my flight left) just makes me set stricter internal deadlines (I have to be at the airport three hours before departure so I can get a window seat; I have to be at the airport three and a half hours before departure so I have time to spend my remaining reals; etc). But it so happened that I was extremely efficient the entire way, train linking up with bus smoothly and without excessive waiting. Also, somehow this bus cost me R$3.40 instead of the $28 the other bus journey cost. Somewhere along the line, I've been ripped off.
I didn't get my window seat though: damn online checkin, even if you're first in the queue you're still last nowadays. The lady also got really confused about my convoluted ticket, thinking I was flying straight on to Tokyo and Singapore. She had to call her supervisor, who asked for secondary photo ID. I would have had a problem if I didn't have a second passport on me. I did, however, spend all but R$0.40 of my remaining R$35 or so, which is an extremely good effort.
So now I'm on this Air Canada 767. And this is a new one on me: USB power sockets on every seat! That really gives me a warm fuzzy. The world has sufficiently converged on one simple, sensible, ubiquitous standard for powering gadgets that a major airline is prepared to make that commitment. With the HD-DVD/Blu-Ray format war also over, maybe there's some hope for the
IT industry yet.
Speaking of which, I'm sitting next to a 30 year old Brazilian programmer who lives and works in Canada, and who is planning to go live in Germany. As you can imagine, we didn't have any trouble striking up a conversation. We compared notes about immigration to various countries. It's so embarrassing how easy my life is compared to other people. This guy missed out on immigrating to Australia by 5 points, and had even less chance of getting to the UK. It's a crime, and it drives me crazy that my countries would piss away opportunities to benefit from the hard work of people like my neighbour here. Now the Canadians have got him (and they may well get me too). I guess this is the price you pay for democracy.
But I'm looking forward to Canada. Liberal, tolerant, immigrant-friendly, prosperous, and luxury of luxuries, English-speaking. Oh, and cold, so no more marinating in my own stink. This should be an excellent opportunity to pause and brace myself for the Japan, which I fully expect to be one of the most bewildering and confusing experiences of my life.