Riga to Tallinn
Mon, 20 Apr 2009 05:58:58 +0000
The bus left at 10:00 this morning, so no need to hurry. I slipped out and wandered off to the bus station. I got some food from a bakery along the way, a herb bun which tasted awful, and something that looked like a simple bun but which turned out to be full of cream and smothered in banana icing. Yuck. But it's food I guess. I topped that off with some fresh orange juice from a machine, which was nice, and a cup of foul coffee, which wasn't. And I had a two Lat coin stolen by a machine which had some paper stuffed in the coin slot. I'm still fuming about that.
So another bus, but again quite a nice one. There wasn't much remarkable about the scenery, although there are noticeably more conifers up here. Before long we rolled into Tallinn. The bus actually stopped right on the outskirts of Tallinn, leaving me with a walk of a couple of kilometres to get into the centre. And it's quite a confusing layout too. But I guess this is a chance to see the city. Very modern, lots of skyscrapers in architecturally exciting designs.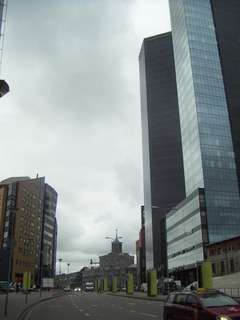 So here I am in Estonia, principally famous for producing global rock 'n' roll megapower Vanilla Ninja http://www.youtube.com/watch?v=JwIM9tw7W6U (Latvia and Lithuania, meanwhile, are mainly famous for being near Estonia). And also famous for having their Internet briefly destroyed by Russia's FSB, allegedly, in the world's first cyberwar. Should be interesting.
Once I had myself settled into the hostel (the staff were a little disorganised, but they got there in the end), the first thing to do was get some lunch. I wandered around the old city looking for something not too expensive and not too touristy, but local. This proved pretty hard. In fact, in the central square most of the restaurants force their waiters to wear mediaeval dress, including doublets and hose. Sorry, just too cheesy. I eventually found a place that, although a little posh, at least had sensible food. I got herring with a "cake" of various grains. The herring came fried inside a thick layer of herbs, but was fairly good. Not worth the exorbitant price I had to pay, but better than breakfast was.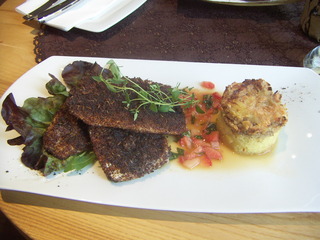 It was already fairly late by this time. I hung out in the hostel for a while. One of the other backpackers was having trouble with his laptop, and I got sucked into offering my opinions on how it should be fixed. I really should try not to get involved with computers, it ain't healthy. I decided to go out for more food. This time I went to a place called "Eat", which serves dumplings and doughnuts, an odd combination. They're cheap, and a popular hangout for students and backpackers apparently. I got a bowl of slightly stale and chewy pastry packets of meat, potato and cheese, with sour cream and sweet chili sauce. Not bad actually. And a dark beer to wash it down.
So I haven't really managed to do any touristing in Tallinn, and in fact I have no idea what I'm going to do with my time here, beyond get my laundry done. We'll see what I can come up with tomorrow.